John Hultgren Self-Guided Tours
Maine Coast
June 19, 2022.
Touring the Maine Coast is an extraordinary journey. With more coastline than California (3,478 miles), it takes time to view the entire Maine Coast. The State of Maine is larger than the other 5 New England states combined, with 17 million acres and 6,000 lakes and ponds.
This article is going to introduce you to two of the more remarkable areas along the Maine coast: Acadia National Park, and the lighthouses of the Portland/Casco Bay/Cape Elizabeth Area.
Acadia National Park is located along the coast of Maine, southeast of Bangor. Most of the park lies on Mount Desert Island as well as some other smaller islands.
Acadia is one of the most popular spots in the northeast with photographers. The park contains rocky shoreline, mountains, lakes, and woods, giving plenty of diversity for photographers.
You can get a great introduction to the park by taking the 27-mile Park Loop Road. Many of the roads in the park, including most of Park Loop Road, close from December to mid-April.
A park entrance pass is required year round. Most visitors to Acadia choose to purchase a Vehicle Pass which covers all occupants for seven days.
Below is a list along with descriptions, GPS coordinates, and interactive maps that can provide directions, along with our photographs of what we feel are the most photogenic locations in Acadia National Park.
All photos copyright John Hultgren.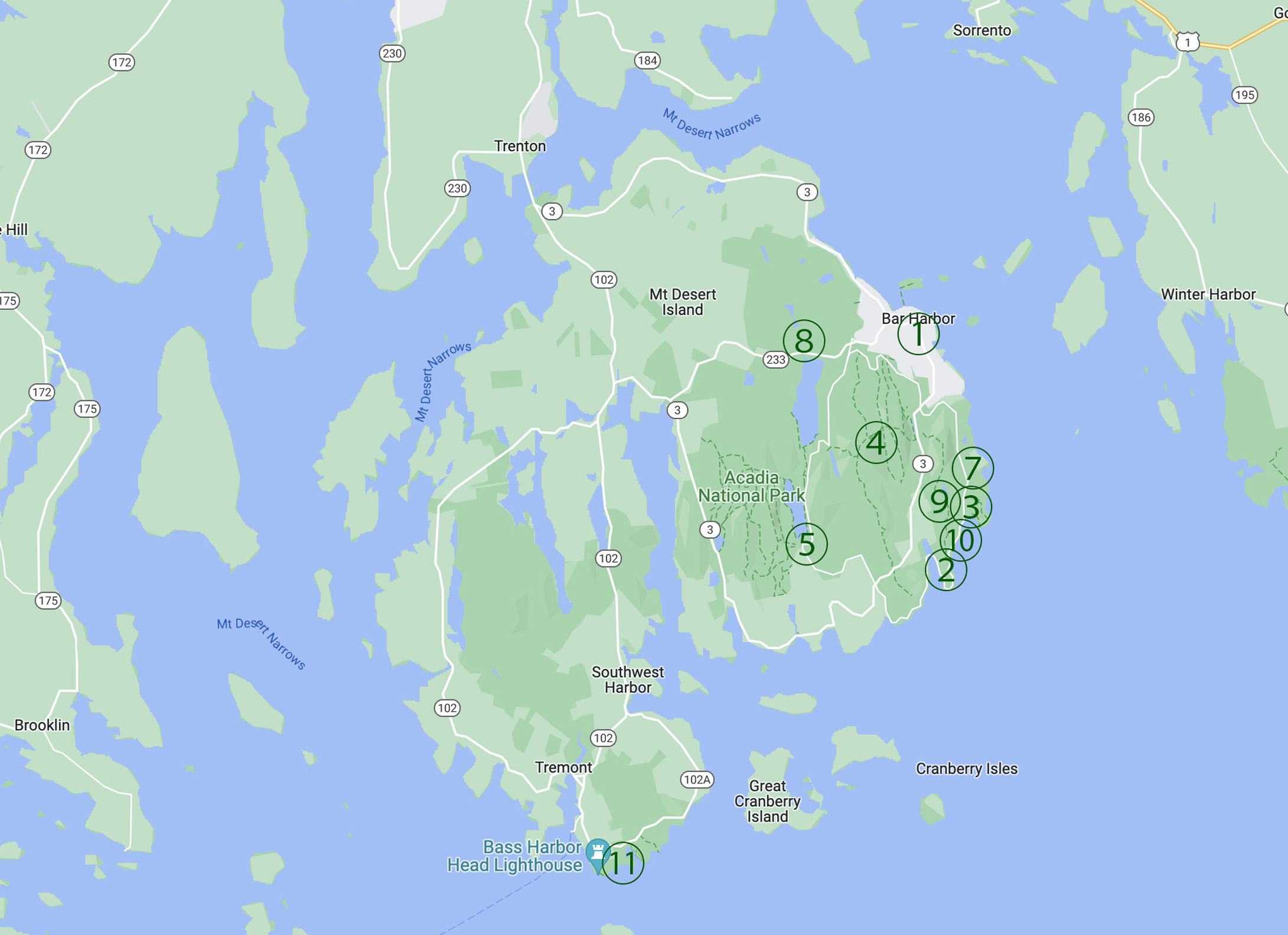 ---
---
1 GPS: N 44°23.27400', W 068°12.25800'
Bar Harbor
Originally incorporated as Eden, Bar Harbor has a world renowned ambiance that blends seashore community, Down East character, and the famous Maine Lobster. It is the best known town on Mount Desert Island with an approximate population of 5,235 and 28,800 scenic acres. Included within the municipality are the villages of Hulls Cove, Salisbury Cove, and Town Hill, as is a large portion of Acadia National Park. Because of this, people often refer to it all as being part of the same concept and place. Bar Harbor sits in a particular coastal part of the state referred to as "Down East" Maine.
---
2 GPS: N 44° 18.64818', W 068° 11.38968'
Otter Cliff
Otter Cliff, in Acadia National Park, is one of the most spectacular sights along the North Atlantic Seaboard. On the east side of the Park Loop Road, about 0.7 miles past Thunder Hole, is the famous 110 foot high Otter Cliff — one of the highest Atlantic coastal headlands north of Rio de Janeiro. Just before Otter Cliff is a beautiful spot called Monument Cove right before the road begins to curve to the left. To the right is a small parking area with portable rest facilities. On the other side of the street is the Ocean Path that leads to the cliff.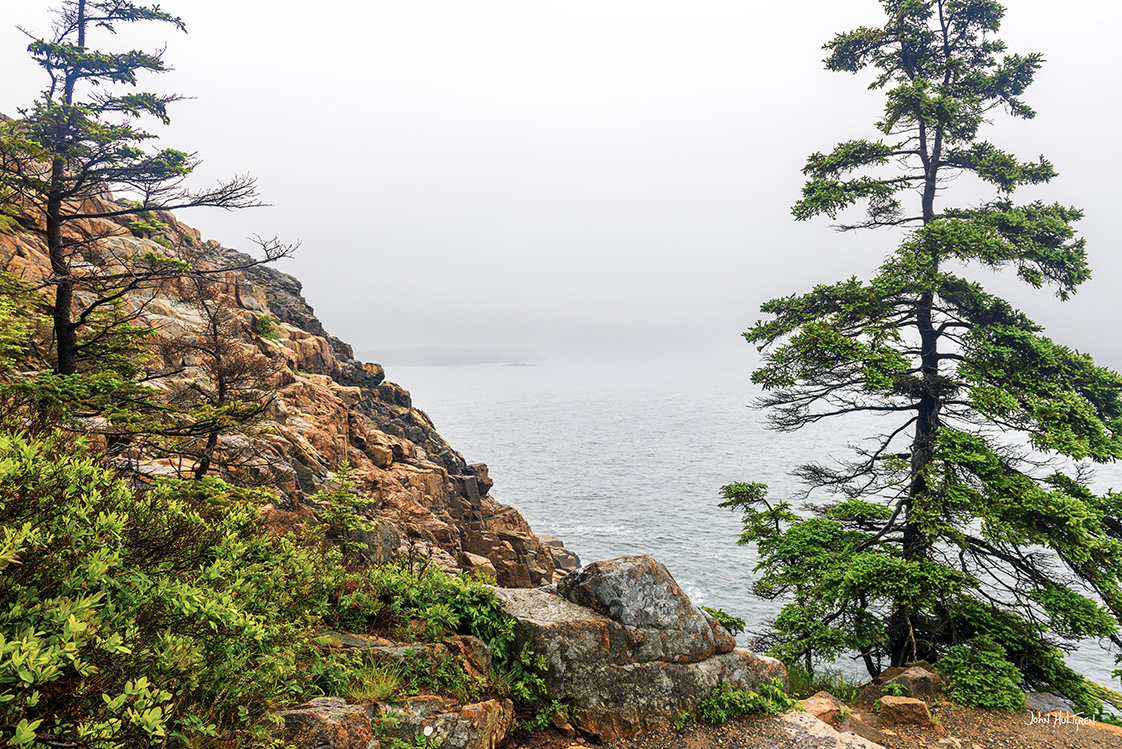 ---
3 GPS: N 44°21.1608', W 068°13.4832'
Ocean Drive
A two-mile section of Park Loop Road is known as Ocean Drive. Stretching from Sand Beach to the dramatic cliffs at Otter Point, Ocean Drive sports pink and tan granite ledges perched above the surf of the Gulf of Maine. A pair of secluded cobblestone coves provide some compositional variety. This entire stretch of coastline faces the rising sun.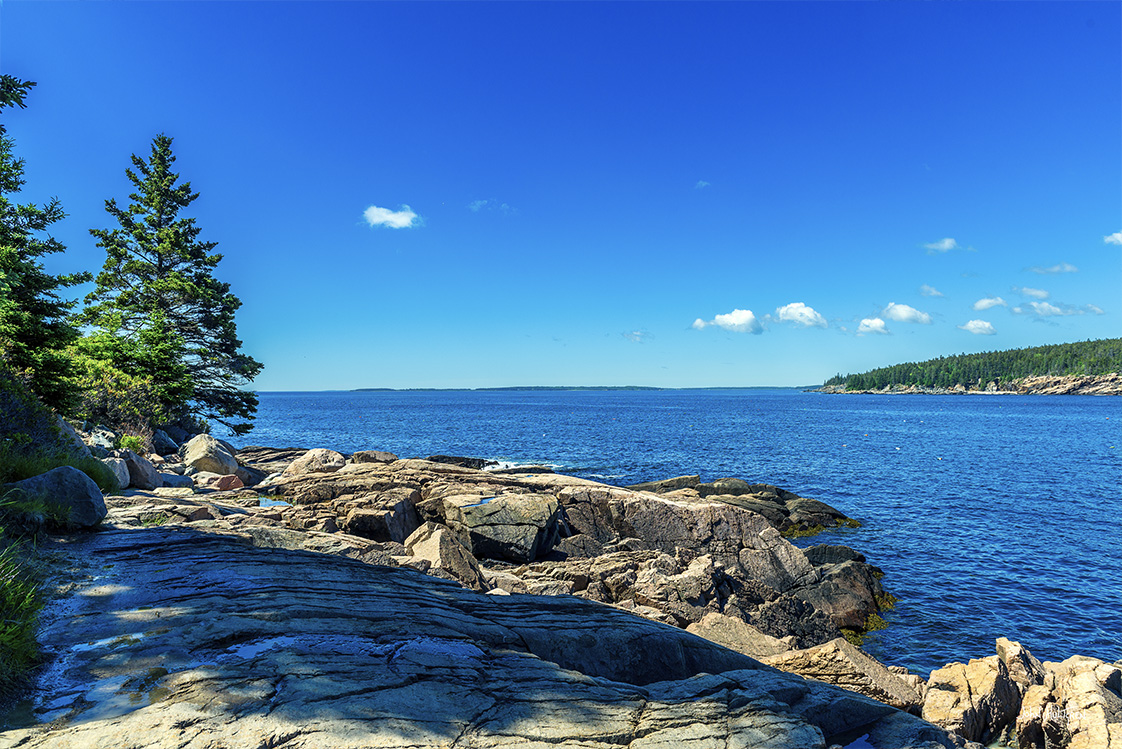 ---
4 Parking GPS: N 44°21.15900', W 068°13.48260'
Cadillac Mountain
Watching sunrise from the 1,528-foot-high summit of Cadillac Mountain (the high point in Acadia) is very popular. The view from the summit is one of the best in all of New England: 360 degrees, taking in Frenchman Bay, the Porcupine Islands, and the surrounding peaks of Mount Desert Island.
Sunrise on Cadillac Mounttain is very popular and you are encouraged to be there 2 hours before sunrise and to be set up and ready to photograph 1-½ hour before sunrise. Finding space to set up your camera is competitive, but walking a short distance down the Cadillac Summit loop (a paved pathway) isn't too difficult in the dark (you are encouraged to bring a flashlight). It would help to use a phone app to anticipate where the sun will be rising as you pick a location to photograph from.
From October to early March, Cadillac Mountain is the first spot in the United States that the sun strikes; at other times Mars Hill in Aroostook County claims the first-light. Cadillac Mountain is one of more than 20 mountains on Mount Desert Island and it's the highest point along the North Atlantic seacoast.
A vehicle reservation, in addition to your park pass, is required to drive to the top of Cadillac Mountain via the Cadillac Summit Road from late May through late October.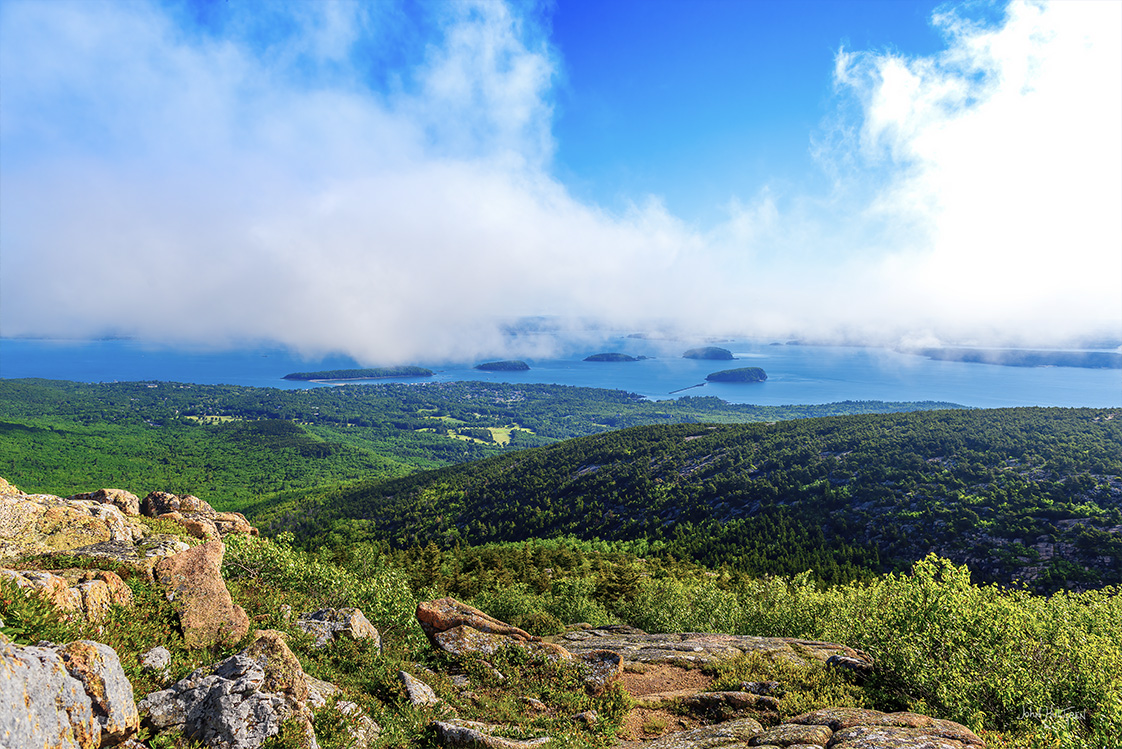 ---
5 Parking GPS: N 44°19.33080', W 068°15.16920'
Jordan Pond and The Bubbles
Jordan Pond is a very picturesque spot in Acadia National Park. The first good photographic location here is right near the parking lot. From the parking lot (which is at the south end of Jordan Pond), as you walk towards Jordan Pond to access the trail you will be able to look across the pond and see the Bubbles (North and South Bubble are two small mountains with rounded tops). You can photograph Jordan Pond with the Bubbles in the distance and some rocks in the foreground from this location.
There are a few different areas along the trail where you can step out to the rocks and get nice views. The second good photographic location is from South Bubble looking down on Jordan Pond. From the Jordan Path you can take a side trail up South Bubble to reach these views, but an easier way is along Park Loop Road where there is a small parking lot for Bubble Rock (the parking lot is northeast of Jordan Pond). The Bubbles Divide Trailhead is located at this parking lot and it's about a 20-minute hike to Bubble Rock.
Bubble Rock looks as if it is hanging off the edge and could fall at any minute. Just a short distance from Bubble Rock you can get the iconic view of Jordan Pond from above. The clearing at the south end of this two-mile-long pond affords perhaps the most iconic view in all of Acadia: Adirondack chairs set above the water, which in clear weather reflects "The Bubbles," a pair of perfectly matched bald peaks at the northern edge of the pond.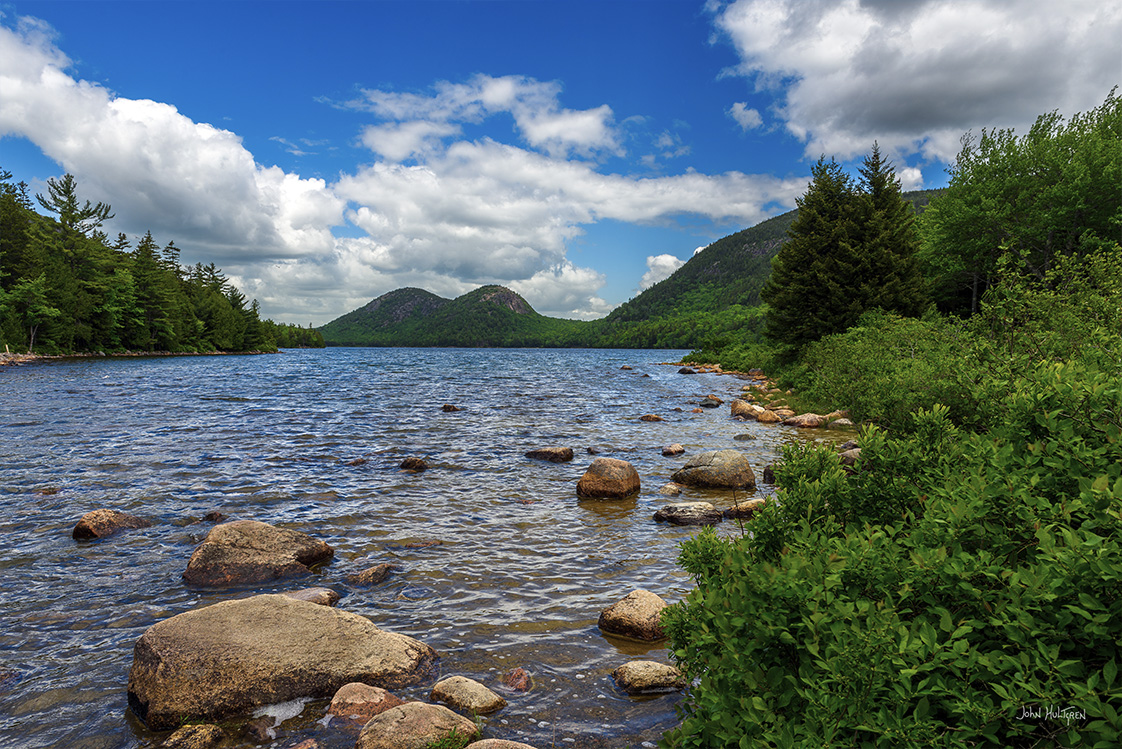 ---
6 GPS: N 44°04.39200', W 068°38.35200'
Isle au Haut
You can take a six-mile ferry ride from Stonington to Isle au Haut. The southern half of "High Island" is part of the national park and features alternating coves and headlands accessible only by kayak or on foot (via the Goat, Cliff, and Western Head trails.) Few places on the Maine coast feel or look as wild and untrammeled. It's possible to visit Isle au Haut as a daytrip, but you can get the most out of a visit there by camping in a lean-to at the park's Duck Harbor campground.
---
7 Parking GPS: N 44°19.80960', W 068°11.03400'
Great Head
Great Head is a rocky cliff rising 145 feet above Frenchman Bay. Among the ruins of an early-20th-century teahouse (Great Head was once owned by J. P. Morgan and his heirs) is where you can photograph summer wildflowers clinging to the rocks, as well as the dramatic cliff views to the east and south. Accessible via the Great Head Trail, which wends its way up the rocks for about a mile from Sand Beach, the cliffs are a popular hiking and rock-climbing destination. Many prefer to hike in before dawn and photograph sunrise or the early-morning light on the cliffs.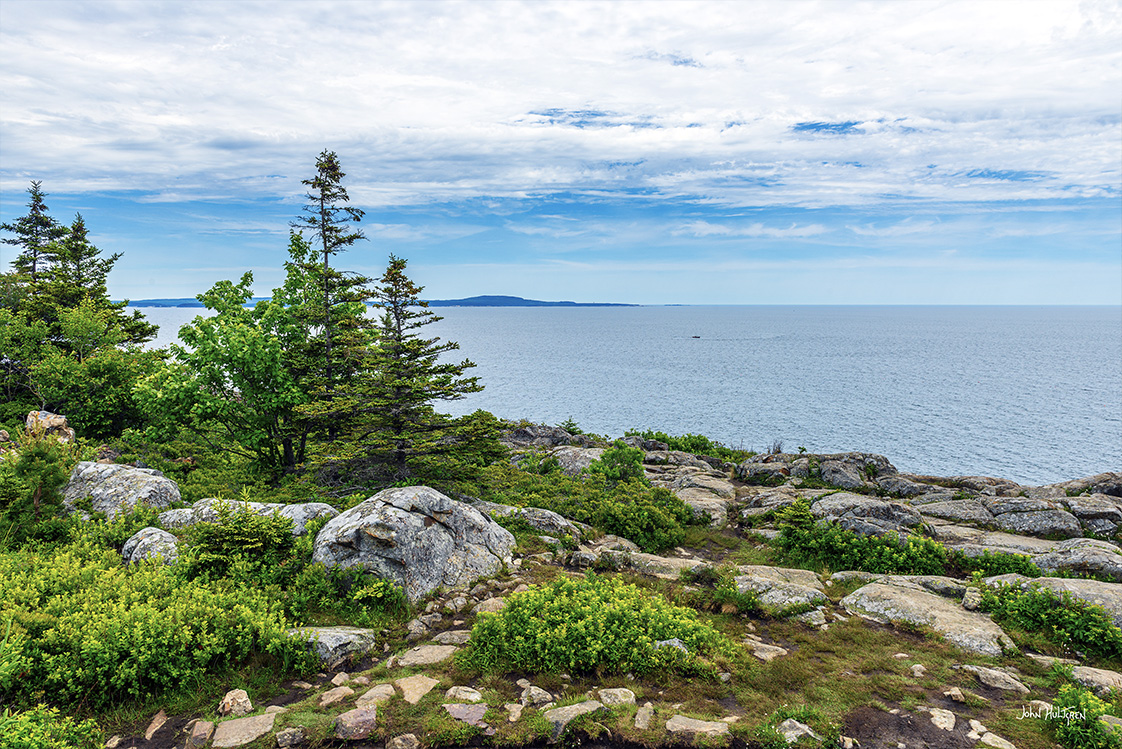 ---
8 Parking GPS: N 44°22.68360', W 068°15.15960'
Eagle Lake
There is a trail that that follows the old carriage road which wraps around Eagle Lake and it is about a 6 mile loop hike. You can get some nice photos near the parking lot.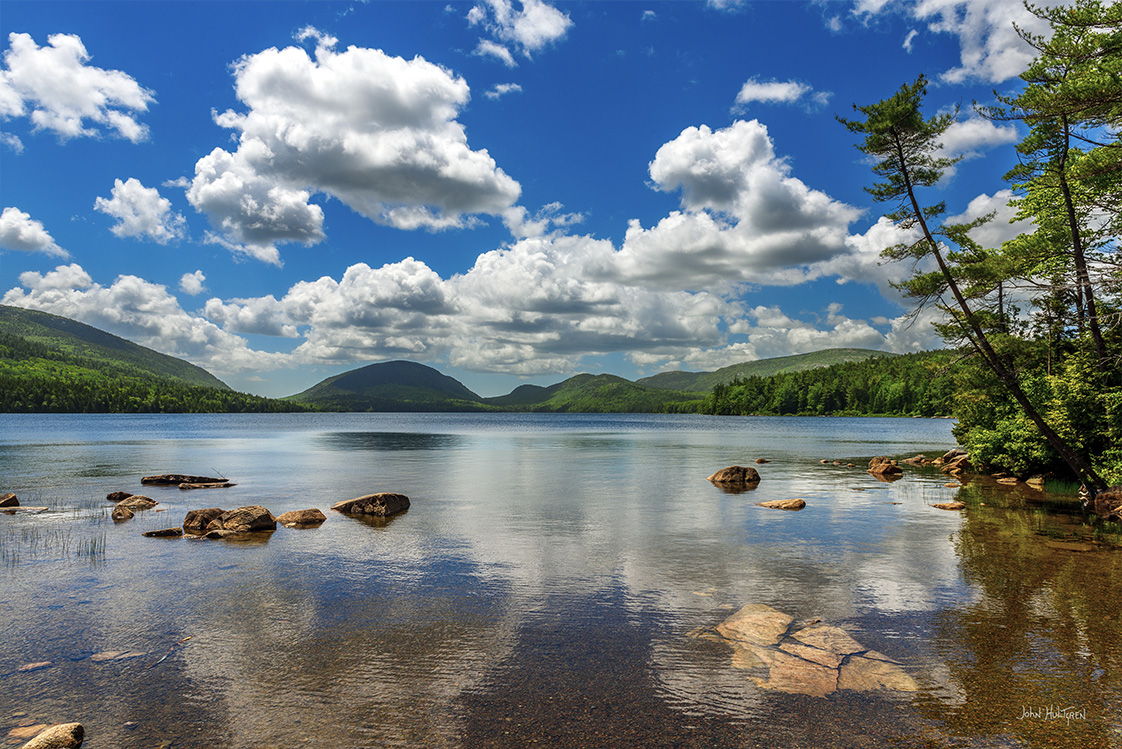 ---
9 Parking GPS: N 44°19.8120', W 068°11.0382'
Newport Cove and Sand Beach
Newport Cove is a bay with, as the name implies, a sand beach. Swimming is allowed but there is no lifeguard. The parking lot can fill up but parking ia allowed along the shoulder of Park Loop Road.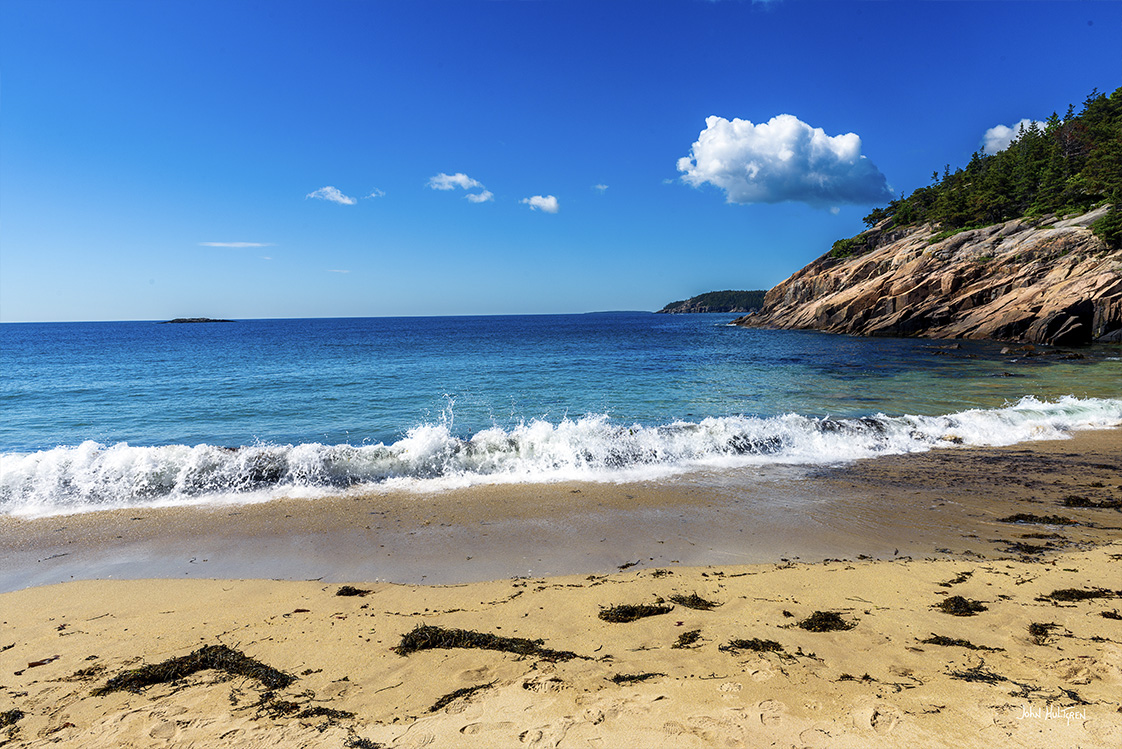 ---
10 Parking GPS: N 44°19.2654', W 068°11.3598'
Thunder Hole
An area where incoming waves can create a thunderous sound. The best time to visit is 2 hours before and after high tide.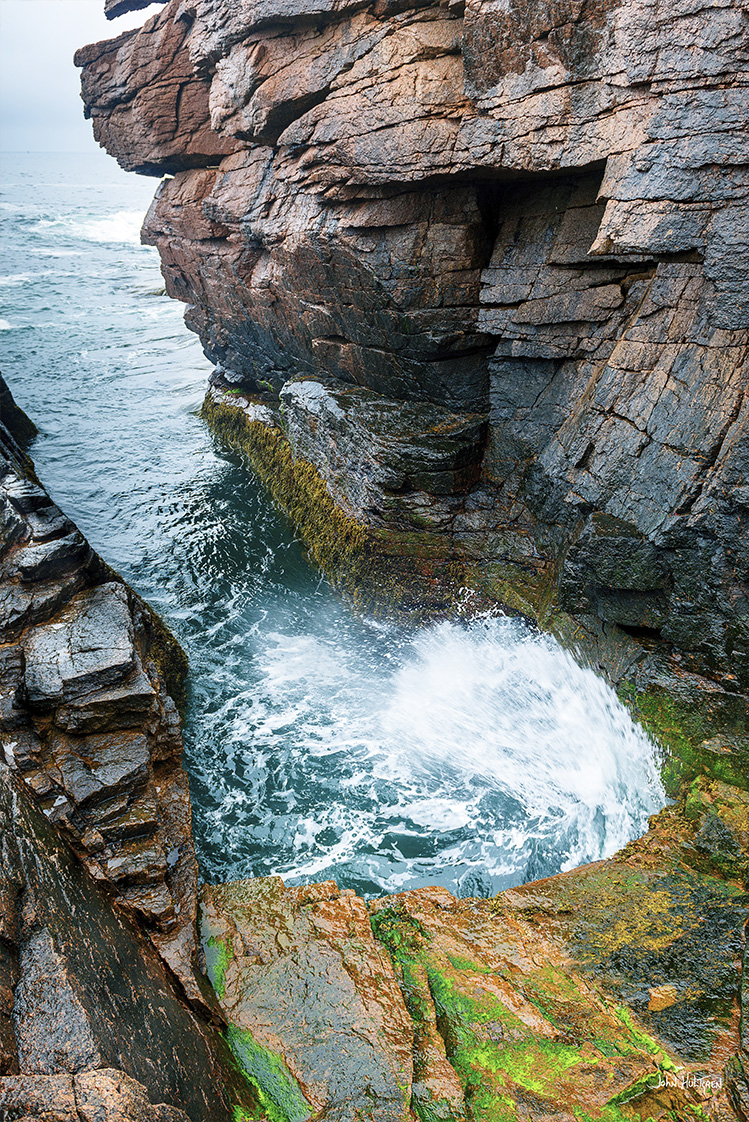 ---
11 Parking GPS: N 44°13.3554', W 068°20.2350'
Bass Harbor Head Lighthouse
The cliffside Bass Harbor Head Lighthouse in Acadia National Park, located in the village of Bass Harbor within Tremont, Maine, marks the entrance to Bass Harbor on the southwestern side of Mount Desert Island.
The lighthouse was built of brick in 1858 on a stone foundation, stands 56 feet above mean high water and is accessible by car off Route 102A. Parking is free and is open daily from 9:00 AM to sunset but I was able to park here before sunrise without any problems.
This is a popular tourist location without many parking spaces and roadside parking is not allowed. In mid-June I found that I needed to arrive 2 hours before sunset to obtain a parking spot. There is a paved trail to a set of stairs, but after you get to the bottom of the stairs you have to scramble over boulders and some may find this navigation to be difficult, particularly when it is crowded and people are sitting on some of the flattest boulders.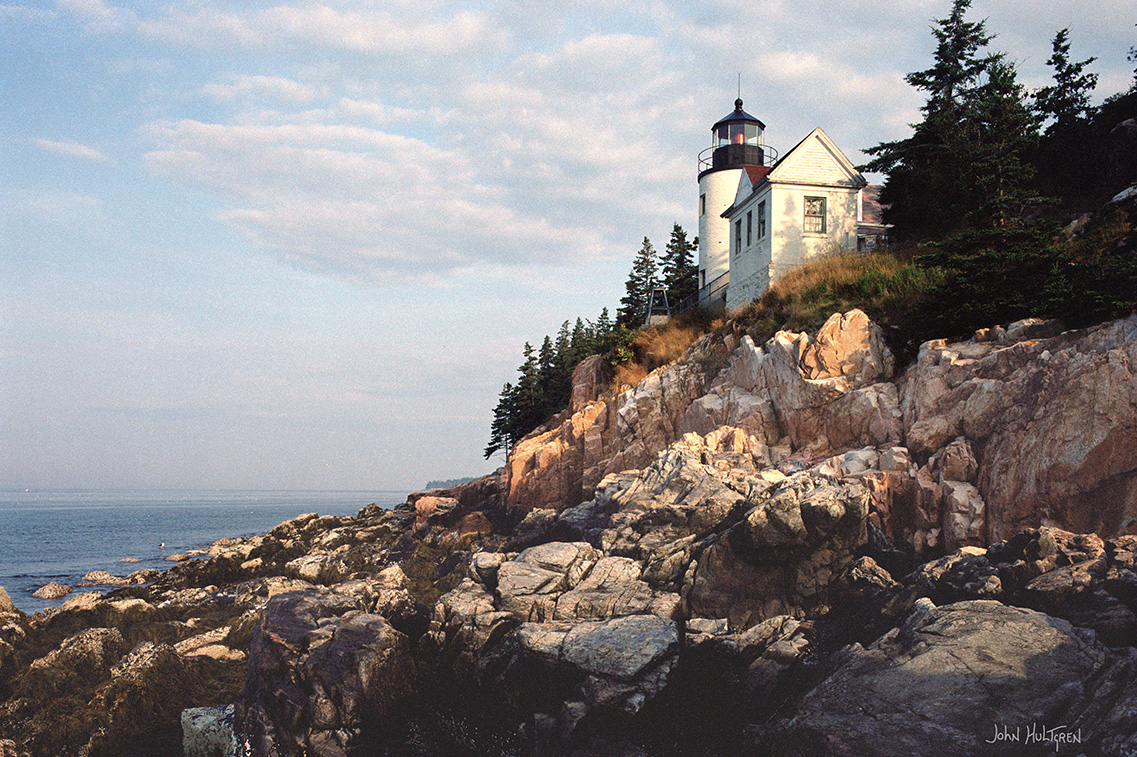 ---
ADVERTISEMENT

---
Cape Elizabeth Area
As you look out over Portland Harbor and Casco Bay you will have the opportunity to view five lighthouse towers.
To your left (north) is Spring Point Ledge Light – built in 1897 – a caisson style light station at the end of a rock breakwater. Directly in front of you is Ram Island Ledge light – constructed in 1905 – with a beacon that is now solar powered. During storms the waves have been seen to crash over the top of the lantern room. Beyond Ram Island, about 10 miles out and only visible on a clear day, is Halfway Rock light station, first lit in 1871. The name comes from its position half way between Cape Elizabeth and Cape Small. To your right (south) you will be able to view Cape Elizabeth light, one of two towers originally built with the remaining operating tower first lit in 1874.
There are also a few other interesting light stations in the area to visit.
All photos copyright John Hultgren.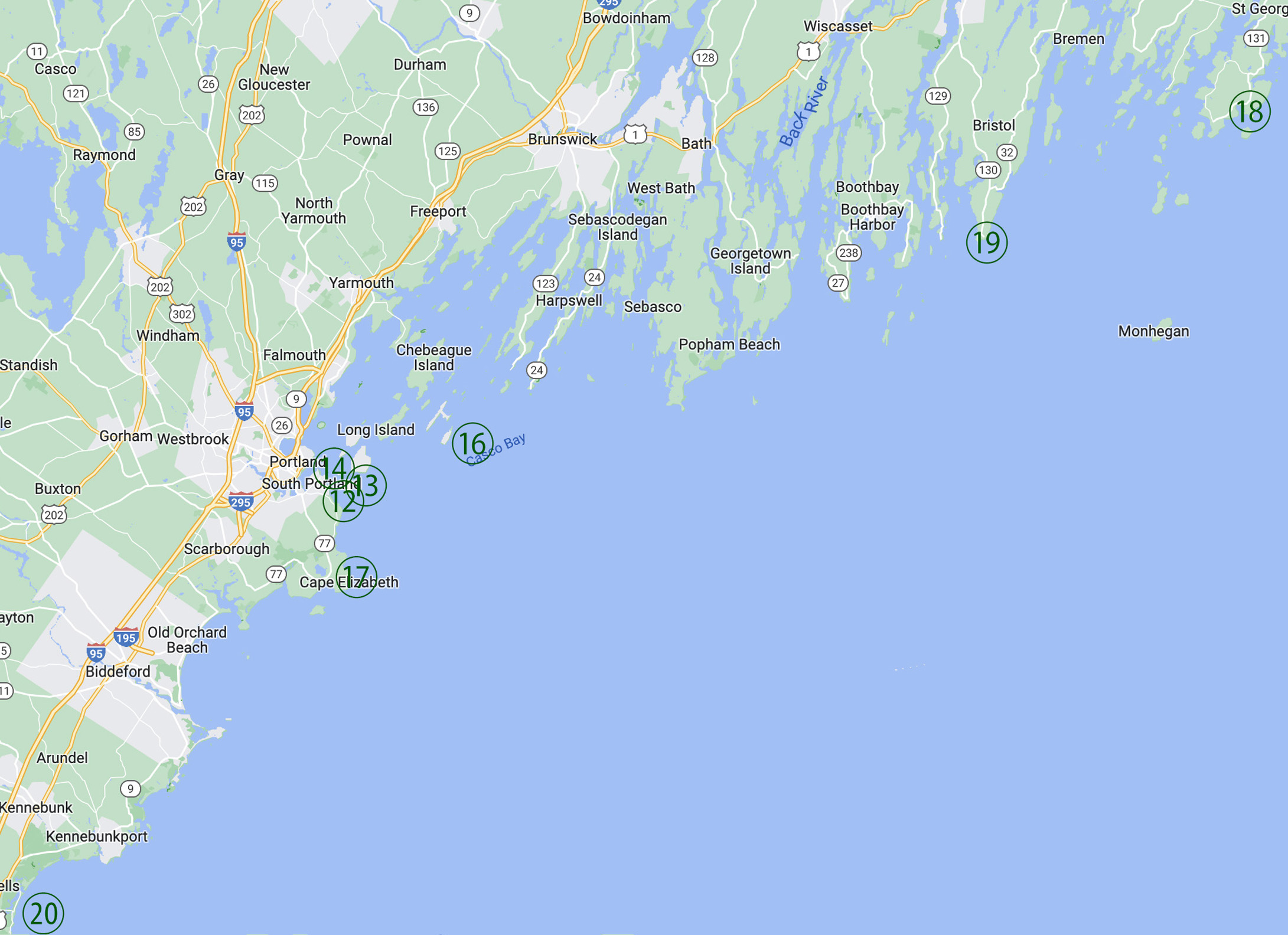 ---
12 Parking GPS: N 43°37.33740', W 070°12.67380'
Portland Head Light
The Portland Head Light is one of the more recognizable and commonly photographed lighthouses in the United States. It is located in Cape Elizabeth, just south of Portland. The lighthouse grounds are now part of Fort Williams Park, and entrance to the park is free but parking is $2/hour for out-of-state residents.
Fort Williams Park is a popular attraction, especially on weekends and during the summer. There are areas to get views of the lighthouse from both the north and the south with guide rails and fences that restrict where you can go, but they still allow you to get a nice view. The amount of available space and the crowds could make it challenging to set up a tripod in some locations. An off-peak time would be ideal for this reason.
The lighthouse sits on a rocky section of coast that is typical of Maine. It provides a beautiful surrounding for the lighthouse and is ideal for photos.
The park hours are from sunrise to sunset and the ideal time to photograph the lighthouse would be at sunrise or sunset.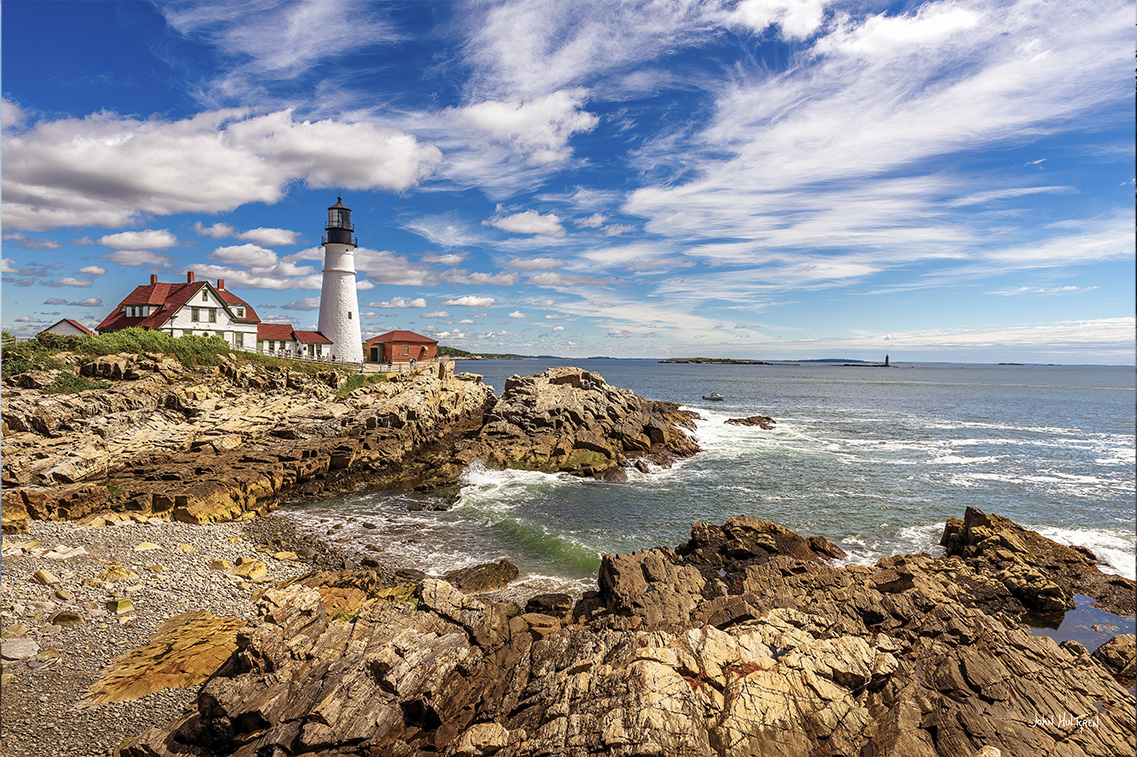 ---
13 Off-Shore GPS: N 43°37.8876', W 070°11.2410'
Ram Island Ledge Light
The lighthouse is off-shore and is usually visible from Portland Head Light.
Ram Island Ledge Light was constructed with 699 4-ton granite blocks, cut from the quarry in Vinalhaven, were they were shaped, numbered and shipped to Ram Island, which was challenging due to the tide that covers the ledge for hours each day. Ram Light is closed to the public, but the grounds are open by appointment, and its light can be easily seen from Portland Head Light. Those viewing Ram Light on land or sea will experience a breathtaking expanse of ocean and nearby islands.
---
14 Parking GPS: N 43.6483,W 70.2264
Spring Point Ledge Light
The Spring Point Ledge Light is located in South Portland along the Portland Harbor. There is no entry or parking fee. You can walk on the breakwater out to the lighthouse.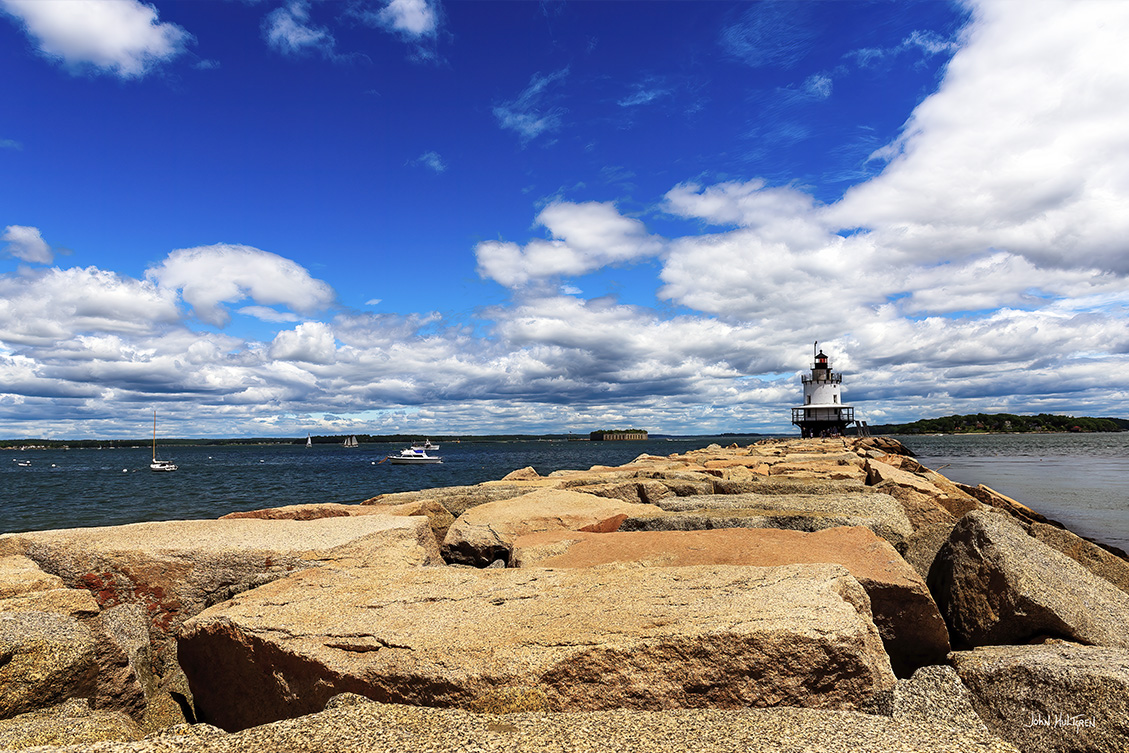 ---
15 Parking GPS: N 43°39.23940', W 070°14.04000'
Portland Breakwater Light (Bug Light)
The Portland Breakwater Light, also known as Bug Light, is located north of the Portland Head Light. Sometimes referred to as Bug Light Park Lighthouse, its role as a marker of the end of the rocky breakwater shielding Portland Harbor began in 1855. In 1875 it was replaced, and at only 26-feet tall, it is known for its diminutive size and its elegance. It continues to be cared for and enjoyed by those visiting the park and those passing by on the waters of Casco Bay – its 250 mm optic exhibits a white flash every four seconds.
Portland Breakwater Light designates the eastern terminus of the Greenbelt Walkway. It is also a busy boat launching area and liberty ship memorial; the South Portland Historical Society and Museum can be found near the entrance.
There is no entrance or parking fee.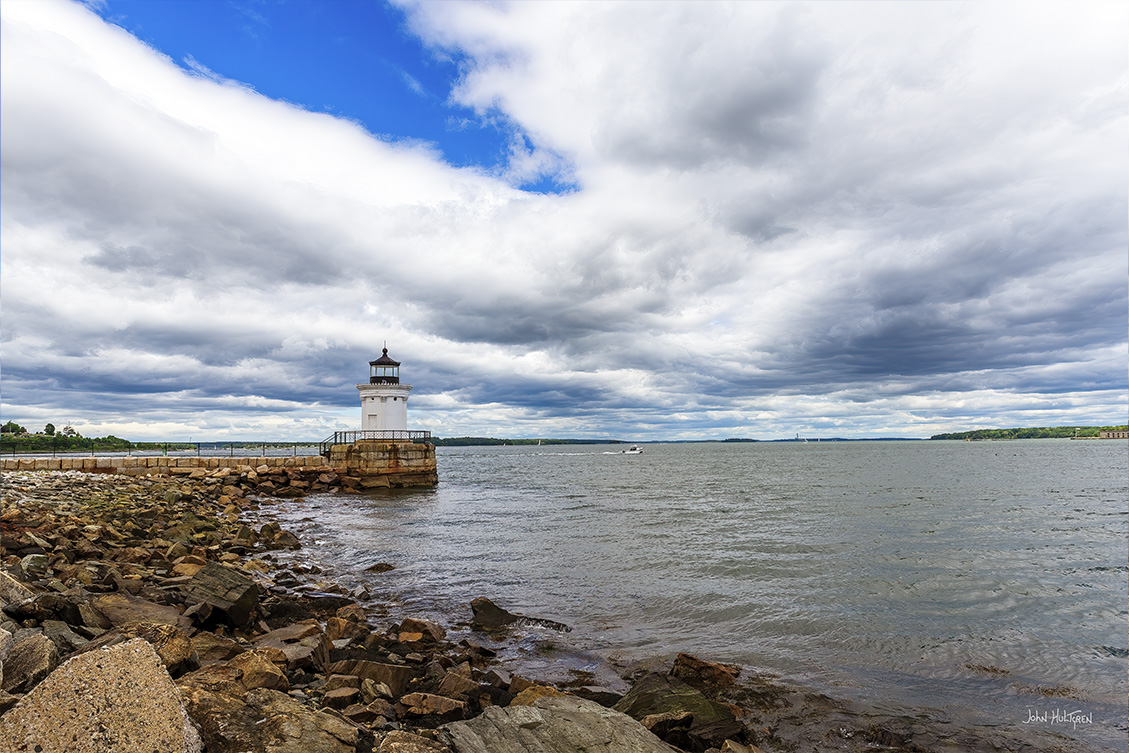 ---
16 Off-Shore GPS: N 43°39.3438', W 070°02.2110'
May be visible from Bailey Island GPS: N 43°43.1100', W 070°00.1260'
Halfway Rock Light Station
Halfway Rock is so named because of its location in the middle of Casco Bay, roughly midway between Cape Elizabeth and Cape Small. With Seguin Island just a short distance up the coast from Cape Small, it may seem that a light at Halfway Rock would be unnecessary, but in a heavy fog local mariners find the seventy-six-foot-tall Halfway Rock Lighthouse indispensable.
Unfortunately, unless you're on a boat or Bailey's Island, you won't be able to see this incredible Portland Maine lighthouse.
---
17 Next to Lobster Shack Parking GPS: N 43°33.8826', W 070°11.9154'
Cape Elizabeth Lighthouse
There are no lighthouses in the adjacent Two Lights State Park. The eastern structure is still a working lighthouse, though not accessible to the public, and the other is now a one-of-a-kind private home.
These twin lighthouses were built in 1828 to help mariners establish their positions. At this time, one lighthouse is flashing and the other one has a fixed beam.
Both of these are on private property, so you can't actually visit this Cape Elizabeth lighthouse duo but you can catch a pretty spectacular view of them from the 41-acre Two Lights State Park, or you can drive to the end of Two Lights Road and take a walk along the rocks next to The Lobster Shack. If you plan on entering Two Lights State Park, there is an entrance fee that starts at $3 for residents and $5 for non-residents.
Parking is available at the very end of the street, next to and directly past the marked Lobster Shack parking (marked as parking for customers only). There is no entry or parking fee.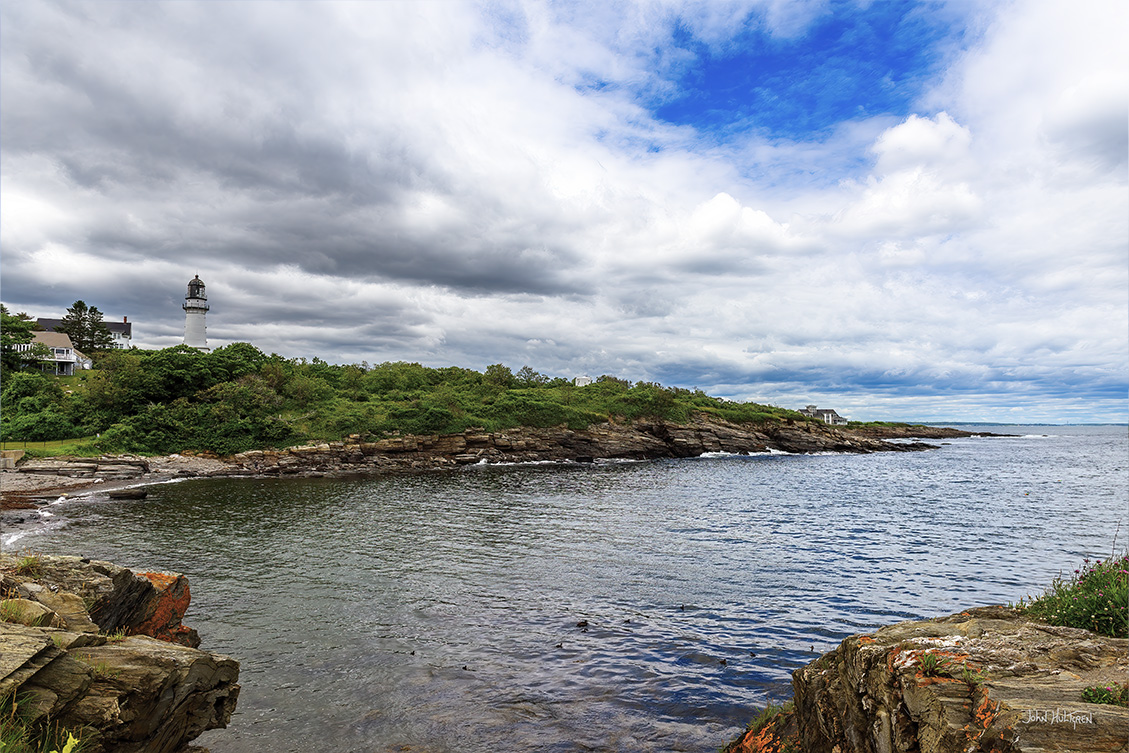 ---
18 Parking GPS: N 43°55.0788', W 069°15.5958'
Marshall Point Light
Marshall Point Light is located about halfway between Portland and Acadia National Park. The lighthouse and rocky land is great for photographs. The lighthouse stands on a rocky point at the end of the St. George peninsula and aids navigation along the Gulf of Maine coast, marking the entrance to the mouth of the St. George River and the harbor located in the fishing village of Port Clyde.
The lighthouse property includes the light tower, accessible via a walkway, the restored 1880's Keeper's House, summer kitchen, and the original oil house. Housed within the keeper's house and summer kitchen is a museum featuring exhibits which highlight the history of the lighthouse and explores the industries and history of the peninsula.
The lighthouse has been featured in many commercial photo shoots and in the movie Forest Gump, where Tom Hanks' character concluded his cross-country run on the runway of Marshall Point Lighthouse.
Parking is available and there is no parking or entry fee.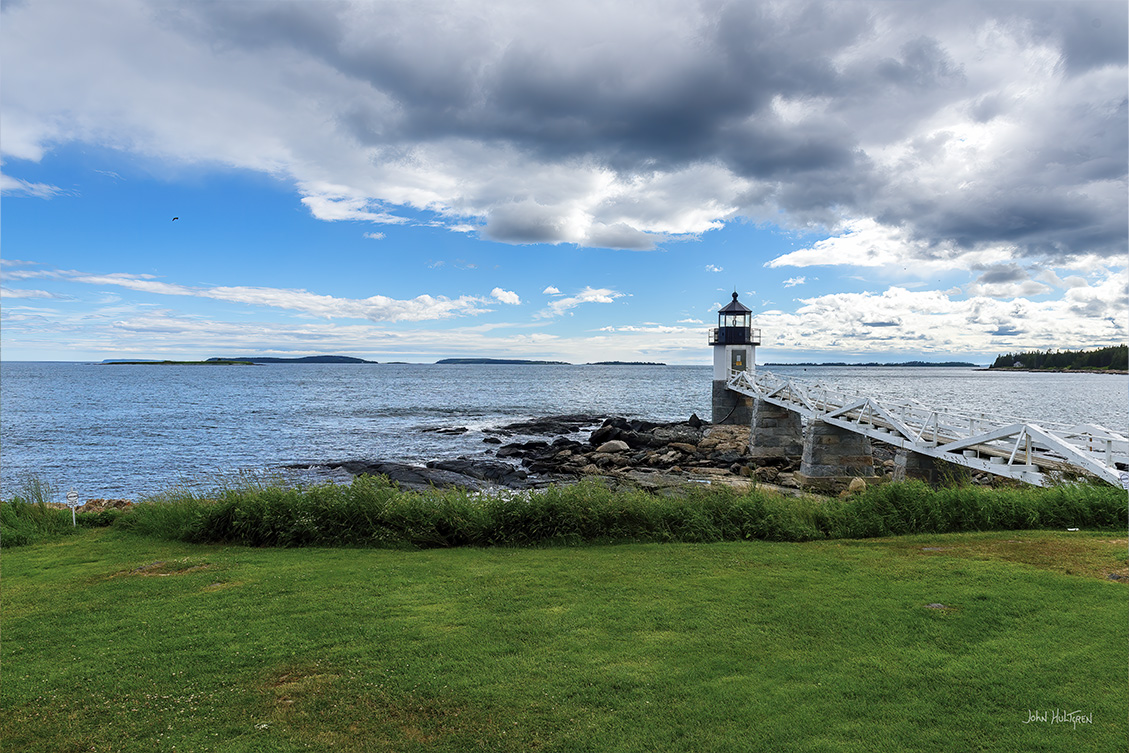 ---
19 Parking GPS: N 43°50.2338', W 069°30.4020'
Pemaquid Point Light
Pemaquid Point is located northeast of Portland in Pemaquid Point Lighthouse Park. The rocky coast here is ideal for photographs.
Sunrise is one of the best times to take photos in this location because it adds a dramatic background to the rocks and light house in the foreground. To get sunrise photos you have to get up rather early because summer sunrises are around 5 a.m. All seasons would be good for this location as it just changes the overall feel whether there is green grass or a coating of snow. If venturing out onto the rocks in front of the lighthouse be very cautious of slippery rocks. There is a $3 charge per person to enter the park which includes parking and access inside the lighthouse.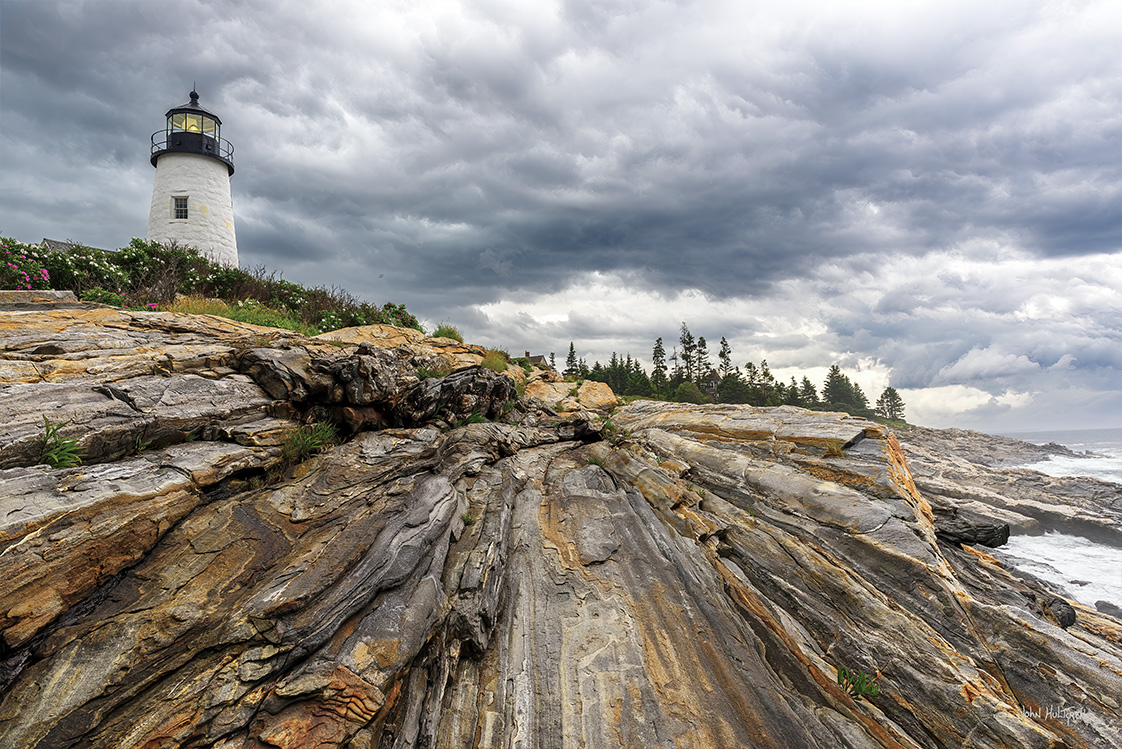 ---
20 Sohier Park GPS: N 43°09.9306', W 070°35.5836'
Cape Neddick Light Station
Also known as the Nubble Lighthouse, it is located on Nubble Island. The lighthouse and rocky coast can be an excellent subject for photographs. The park that overlooks this picturesque lighthouse is called Sohier Park. The lighthouse itself is not accessible to the public but can be photographed from Sohier Park.
In 1874 Congress appropriated $15,000 to build a light station at the "Nubble" and in 1879 construction began. Cape Neddick Light Station was dedicated by the U.S. Lighthouse Service and put into use in 1879. It is still in use today.
Parking is available and there is no entry or parking fee.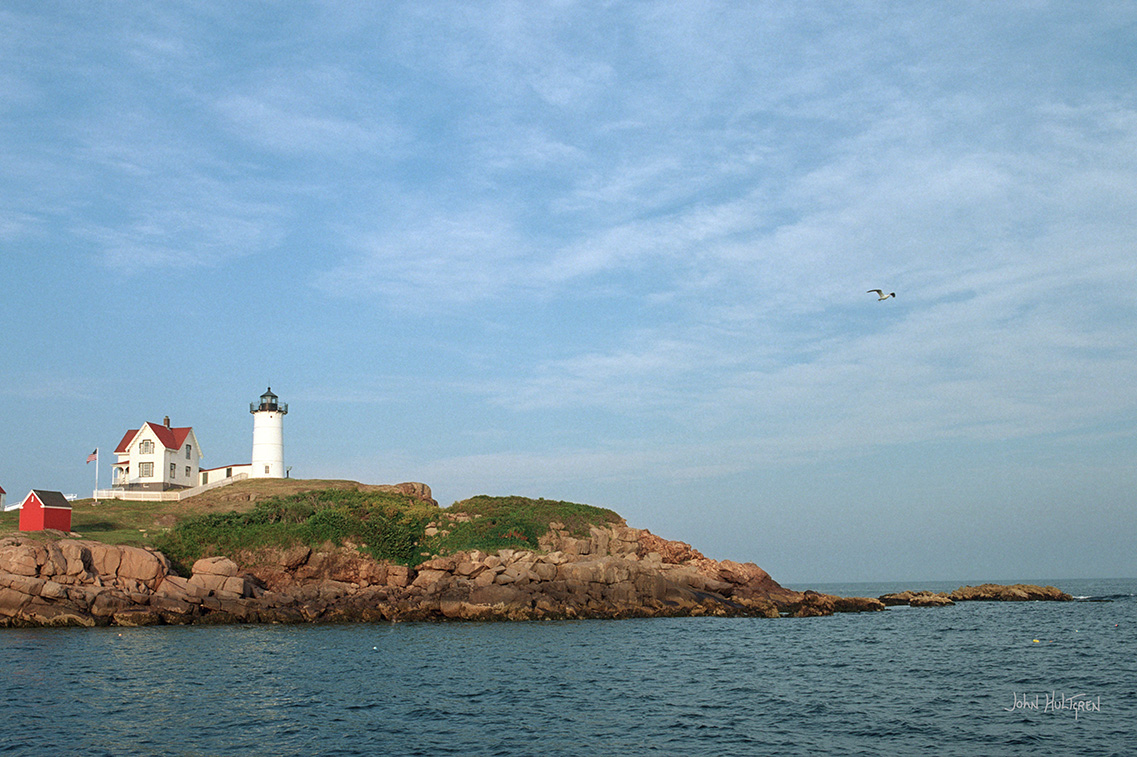 ---
---

I am a fine art and conservation photographer and author from Louisville, Kentucky, who uses photography to advocate for conservation outcomes, protecting nature and improving the natural environment. Conservation photography furthers environmental conservation, wildlife conservation, habitat conservation and cultural conservation by expanding public awareness of issues and stimulating remedial action. You can see more of my work at www.hultgren.org.
---