John Hultgren Self-Guided Tours
Waterfalls of New River Gorge
May 13, 2023
The New River is among the oldest rivers on the continent. The New River Gorge National Park & Preserve, our country's 63rd national park, encompasses over 70,000 acres of land along the New River and the park is rich in cultural and natural history. In addition to the rugged, whitewater river flowing through deep canyons, the park offers an abundance of scenic and recreational opportunities.
For centuries the gorge remained virtually inaccessible along its entire length. Then, in 1873, the railroad opened up this isolated part of West Virginia and the landscape began to change. The railroad, bordering the river, made possible the shipment of coal to the outside world. As coal mining grew, towns near the coalfields flourished but eventually the bitter mining labor movements became part of our cultural history.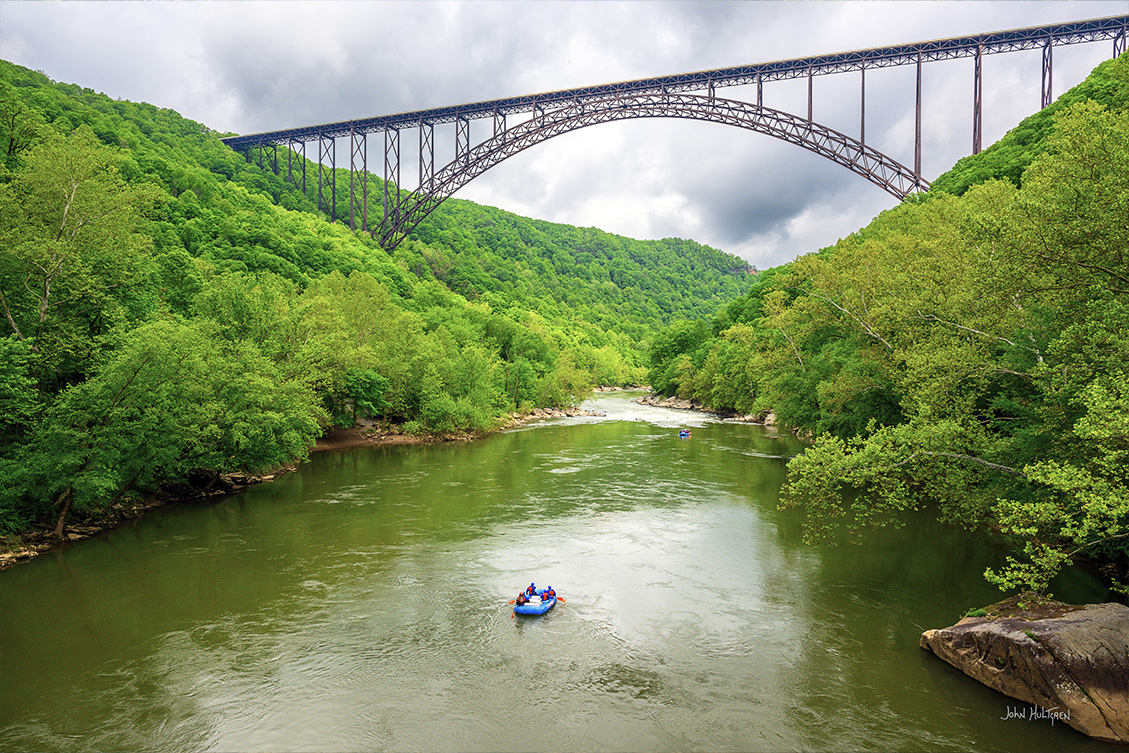 The New River is renowned for its excellent fishing and is a premier whitewater boating river. Some of West Virginia's rarest plants grow here. Congress established the park in 1978 to preserve and protect this important free-flowing waterway. Today 53 miles of the river and its gorge and 40 miles of tributaries are preserved as New River Gorge National Park and Preserve, Gauley River National Recreation Area, and Bluestone National Scenic River.
The New River Gorge region is home to well over 100 waterfalls, with many of them nestled in the park's boundaries. Below is a list, includng descriptions, GPS coordinates, interactive maps that can provide directions, and our photographs of what we feel are the most photogenic waterfall locations within the New River Gorge National Park & Preserve.
All photos copyright John Hultgren.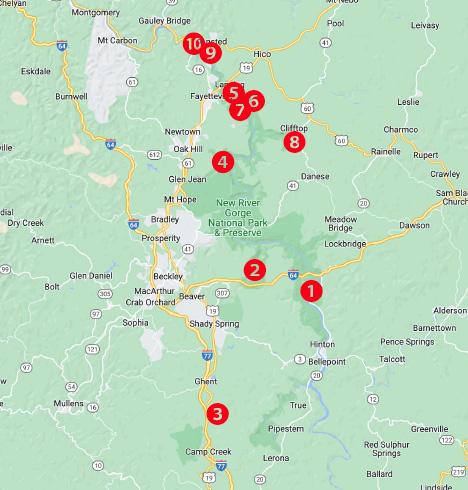 1 GPS: N 37°45.4067', W 080°54.4093'
Sandstone Falls
1 mile loop hike with a 22 feet elevation gain.
Parking: N 37°45.5646', W 080°54.3024'
Sandstone Falls Boardwalk Trail: N 37°45.5532', W 080°54.3096'
Sandstone Falls marks the transition zone of the New River from a wide river of large bottomlands to a narrow, rugged river raging through a deep boulder-strewn gorge. Divided by a series of islands on the New River, Sandstone Falls measures in at 15-25 feet high with a 1,500-foot width.
The 6 mile drive to the parking area is along a narrow road that is paved in the beginning but then turns into a narrow gravel road. Larger or lower vehicles may have difficulty navigating this road. I made the trip is an smaller 4-wheel drive vehicle without any problems.
Sandstone Falls is easy to access from the fall's parking lot thanks to an elaborate quarter-mile-long boardwalk and bridge system. The first overlook on the boardwalk offers nice vantage points of the lower section of falls as shown in the photo below and is a popular spot for fishing. To the left of the overlook you will notice the Island Loop Trail which leads you through the Appalachian Riverside Flatrock Community, a unique botanical ecosystem in West Virginia.
The second bridge crosses a wide natural channel with a beautiful view of the lower falls in the distance. The boardwalk ends at an overlook with a 20-foot-high section of falls in the distance. All along the boardwalk, you will notice several user-created paths leading to various vantage points along the channels and river.
The path near the end of the boardwalk is where you can leave the boardwalk and explore. The trail leads to an island with magnificent vistas of the river and the main section of falls. Three stream crossings are required to reach the island.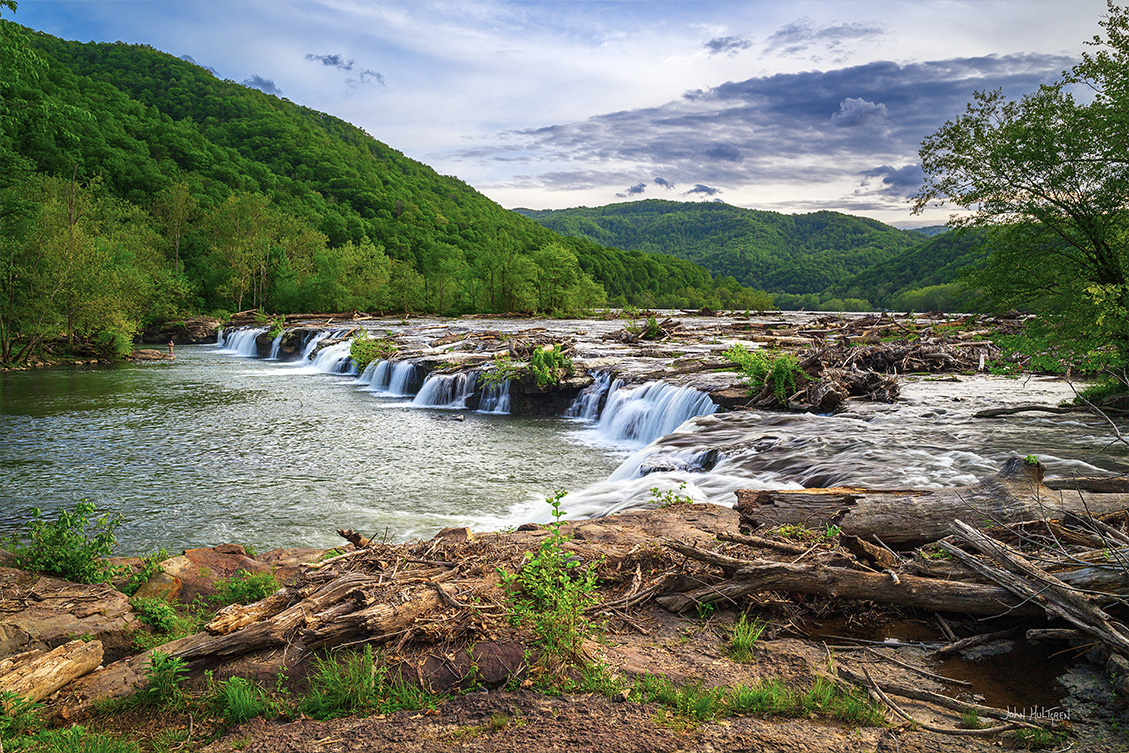 ---
2 GPS: N 37°46.5000', W 081°01.8720'
Kate's Branch Falls
9.4 miles round trip hike with a 774 feet elevation gain, moderately challenging.
Glade Creek Road: N 37°51.4200', W 081°03.2340'
Lower Glade Creek Trailhead: N 37°49.71335', W 081°00.72890'
Kate's Falls Trail: N 37°46.5720', W 81°01.9200'
Kate's Branch Falls needs consistent rainfall and is best visited in early to mid-spring. Trillium is prevalent here and, when in bloom, makes an excellent foreground for your images.
Kate's Branch Falls is located on a spur trail off of the popular Glade Creek Trail and is a 2.4-mile round trip hike from the upper trailhead parking lot, or you can start your hike from the lower trailhead parking area and add in a stop at Lower Glade Creek Falls on your way up to Kate's Branch Falls. Glade Creek is a very picturesque stream and in the spring you will you will find numerous wild flower varieties along the trail.
---
3 GPS: N 37°27.9995', W 081°03.6323'
Brush Creek Falls
3.9 miles round trip hike with a 396 foot elevation gain, moderately challenging.
Brush Creek Falls Trail: N 37°27.8826', W 081°03.8376
Outside the national park boundaries near Athens, West Virginia, maintained and managed by Pipestem Resort State Park. Adjacent to Brush Creek Falls is the Nature Conservancy's Brush Creek Preserve, a haven for spring wildflowers, migrating warblers, and dramatic limestone and sandstone cliffs.
From the parking area, follow the rock-strewn path for a quarter mile. Your first view of the falls will be the upper falls — a series of small cascades that makes up the ledge of Brush Creek Falls. Continue down the trail a short distance past a wooden fence and make an abrupt switchback down to the creek. Several nice vantage points for photographing Brush Creek Falls can be found once you descend the path from the trail above. The pool is rather large, though, so good perspectives are in the creek itself or from the other side of the creek.
For additional photo opportunities, there are some nice stream scenes and small cascades downstream from Brush Creek Falls. Accessing them will require some creek walking or steep scrambles down from the trail. When Brush Creek is raging, take the time to hike an additional 1.5-plus miles to White Oak Creek Falls. One more cascade is on the other side of the road at the parking area.
---
4 GPS: N 37°56.3140', W 081°05.8652'
Dunloup Creek Falls
Roadside Pull Off: N 37°56.2789', W 081°05.8517'
There are no signs along the road but there is a pull off on the side of the road very near the falls with a short steep trail down to the falls. You can hear and see the falls from the pull off.
Dunloup Creek Falls is a wonderful four- season waterfall. The roadside pullout offers a nice view of the falls from above, though a short but steep scramble down to the creek will give you much better camera angles.
Be sure to spend some time exploring the creek upstream and downstream from these falls, as there are several small cascades and stream scenes available. Also nearby is the historic ghost town of Thurmond.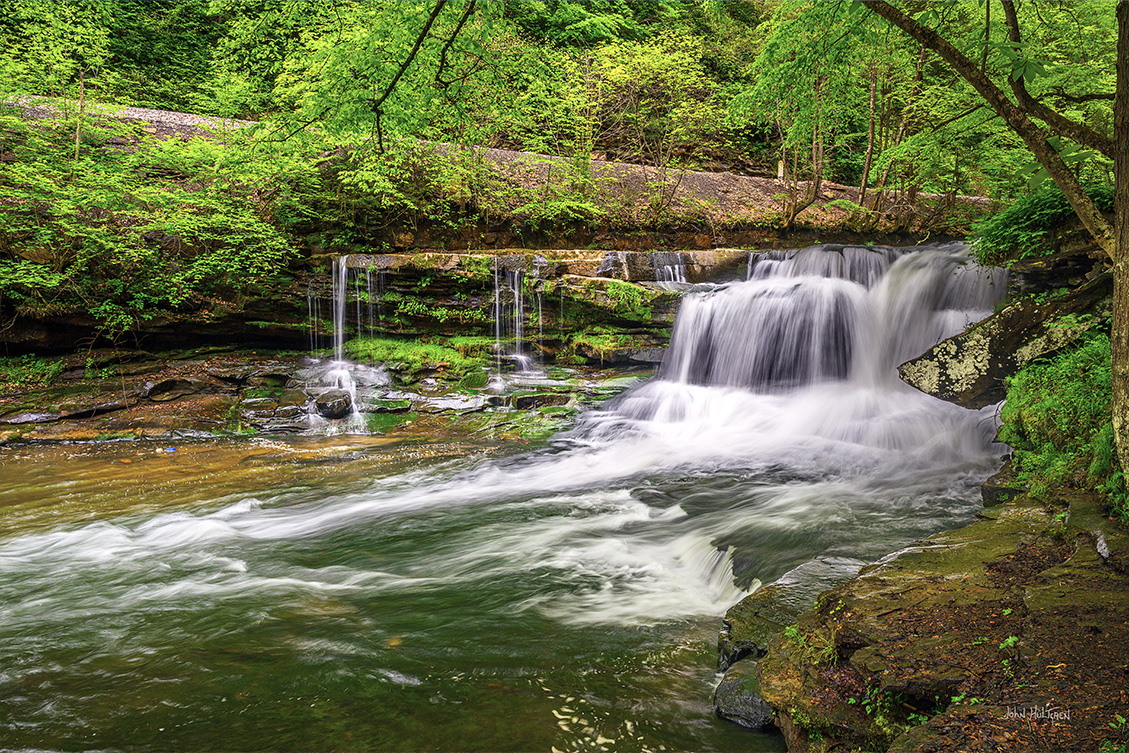 ---
5 GPS: N 38°03.5680', W 081°04.7860'
Kaymoor Falls
Parking: N 38°03.864, W 081°04.899
Kaymoor Trailhead: N 38°03.554, W 081°04.817
The falls are along a trail that intersects with the road but there is no parking on the road at the trail head. The road is a one way road so there is no turning around to easily go back. There is a parking lot marked "Additional Parking" about 0.8 miles before the trail head and you can walk from the parking area to the trail head along a paved road.
From the Kaymoor Trailhead, walk across the footbridge and up the trail a very short distance. This fall is like a wall of water right on the side of the trail and it continues under the trail and tumbles down into Wolf Creek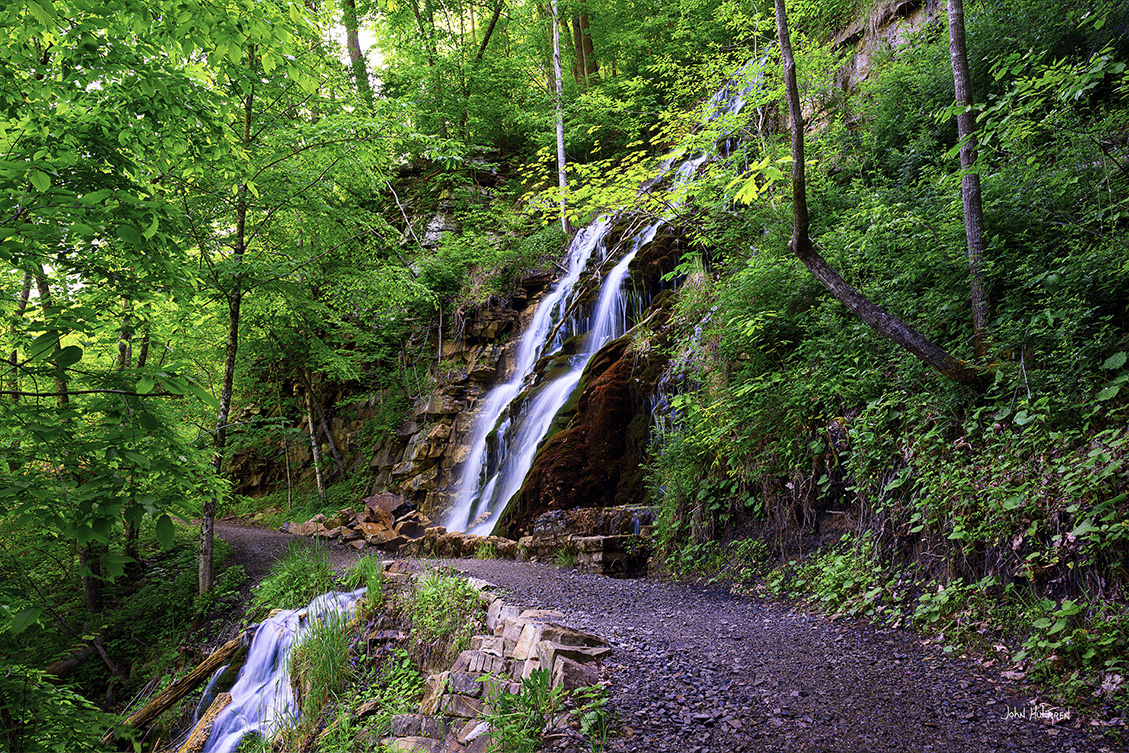 ---
ADVERTISEMENT

---
6 GPS: N 38°03.4973', W 081°03.7230'
Upper Fern Creek Falls
Parking: N 38°03.5826', W 081°02.9658'
Fayette Station Road Parking and Trail: N 38°04.0866', W 081°04.7472'
There are at least a dozen waterfalls on Fern Creek. While the approaches to Upper Fern are on established paths, from then on it is off-trail bushwhacking.
There are two approaches to Upper Fern Creek. One is via the highly popular Endless Wall Trail and using a climber's ladder to descend to the creek. The other is an easy-to-follow path along the cliff line forged by rock climbers.
For most of the year, the upper falls of Fern Creek are mostly hidden from view as the water is running through a cave-like cleft in the cliff wall. But when the stream is rain-swollen the upper falls take on a dramatically different personality. You will hear the thunderous rumble of water well before you see it. Fern Creek leaps in spectacular fashion over the cleft into an amphitheater strewn with massive boulders.
From here, you will need to decide if you want to make the difficult trek down to the lower falls and view the other waterfalls on the way. If you go, you will be descending and then working your way back up on a dangerous and steep grade that requires a lot of off-trail navigation. Copperhead snakes are also frequently encountered in this area.
The best route is to stay on the right side of the stream (looking downstream) as you descend. There are no official trails down into the canyon, but there has been enough traffic in recent years that you should be able to pick up a faint path here and there.
As you carefully work your way down into the canyon, you will pass by several smaller falls and a couple of significant drops, with one of them being what is called the middle falls.
---
7 GPS: N 38°03.4595', W 081°04.0755'
Lower Fern Creek Falls
Fayette Station Bridge Parking and Trail: N 38°03.9128', W 081°04.5779'
From the Upper Fern Creek Palls, the scramble on down to the lower falls is a bit easier to navigate, and in a few tenths of a mile you will reach them. Of all the waterfalls on Fern Creek, the lower falls is quite beautiful.
Another option is to approach from below the lower falls. To make this approach drive down Fayette Station Road to a railroad crossing where Tunney Hunsacker Bridge is. There is space for a few cars to park next to the train signals and there is some additional space along the road across the bridge. Walk up the railroad tracks about a half mile and you will see where Fern Creek empties out, and under good rainfall hear the Lower Falls. Trains are active on these tracks.
---
8 GPS: N 37°58.7682', W 080°56.8080'
Glade Creek Falls
Parking: N 37°58.7778', W 080°56.7744'
Outside of the national park boundaries in nearby Babcock State Park is the iconic Glade Creek Grist Mill which makes for a dramatic backdrop to this stream-wide waterfall which sits several yards downstream of the mill.
There is parking adjacent to the mill with a gift shop and rest rooms. The Glade Creek Grist Mill is easily West Virginia's most-photographed site. Explore downstream from the waterfall where you will find several pretty cascades and stream scenes.
Babcock State Park is only open from 10 a.m. until 6 p.m. unless you are a registered lodging guest in their cabins, so Golden Hour shots in the warmer months are only possible if you are staying in the park.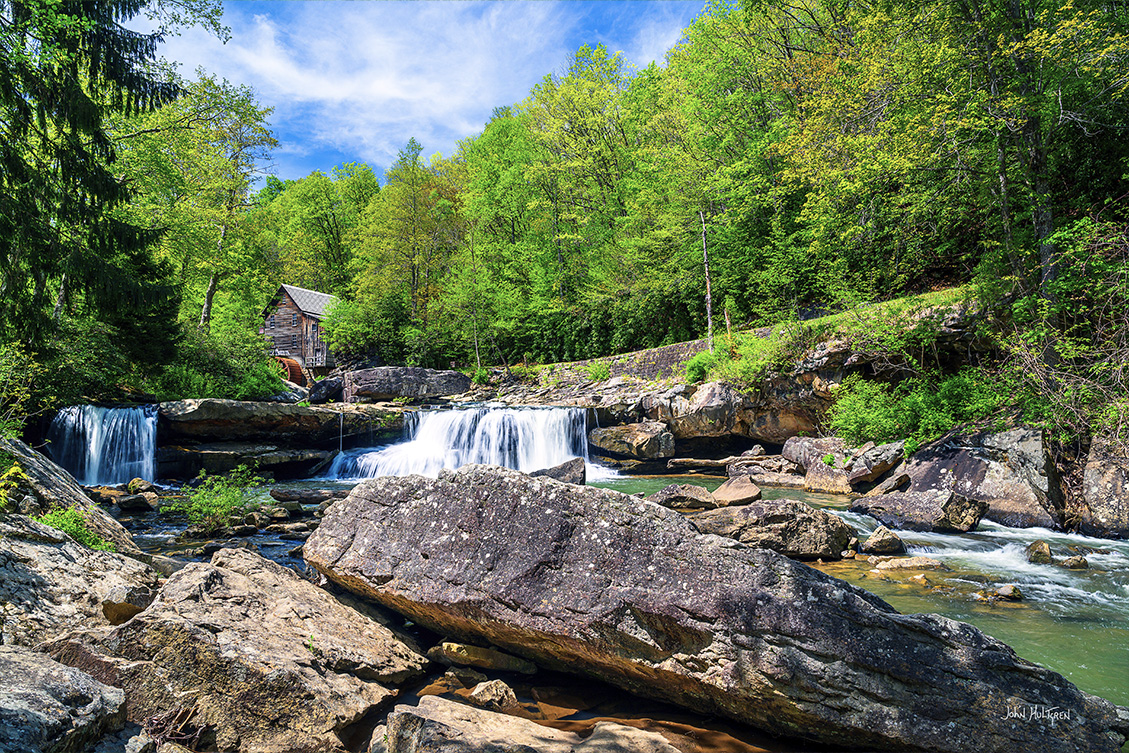 ---
9 GPS: N 38°07.4970', W 081°06.4582'
Mill Creek Falls
Anstead Rail Trail: N 38°08.0781', W 081°06.0650'
Mill Creek is a rugged mountain stream full of beautiful stream scenes, small waterfalls, and cascades, with Mill Creek Falls being the highlight. Its setting and the small ledges over which the water courses deliver exceptional photo opportunities in all seasons.
You can access Mill Creek Falls via Hawks Nest Road where you can simply park and scramble down to the falls. Continue down the road and take in the view of Hawks Nest Lake which is the New River held back by a dam just downstream. There is a photogenic railroad bridge over the lake. From the parking area, you can also take an easy half-mile hike on the Fisherman's Trail to Lower Turkey Creek Falls.
You can also hike to Mill Creek Falls on the historic Ansted Rail Trail. This trail is an old railroad bed and one section is a wooden walkway that crosses the stream over an old wooden railroad trestle. The trail is a gentle downhill grade to the falls and is 2.2 miles round trip from the parking area. From this side of the falls the top of the falls is adjacent to and accessible from the rail trail but there doesn't seem to be any safe access to the bottom of the falls.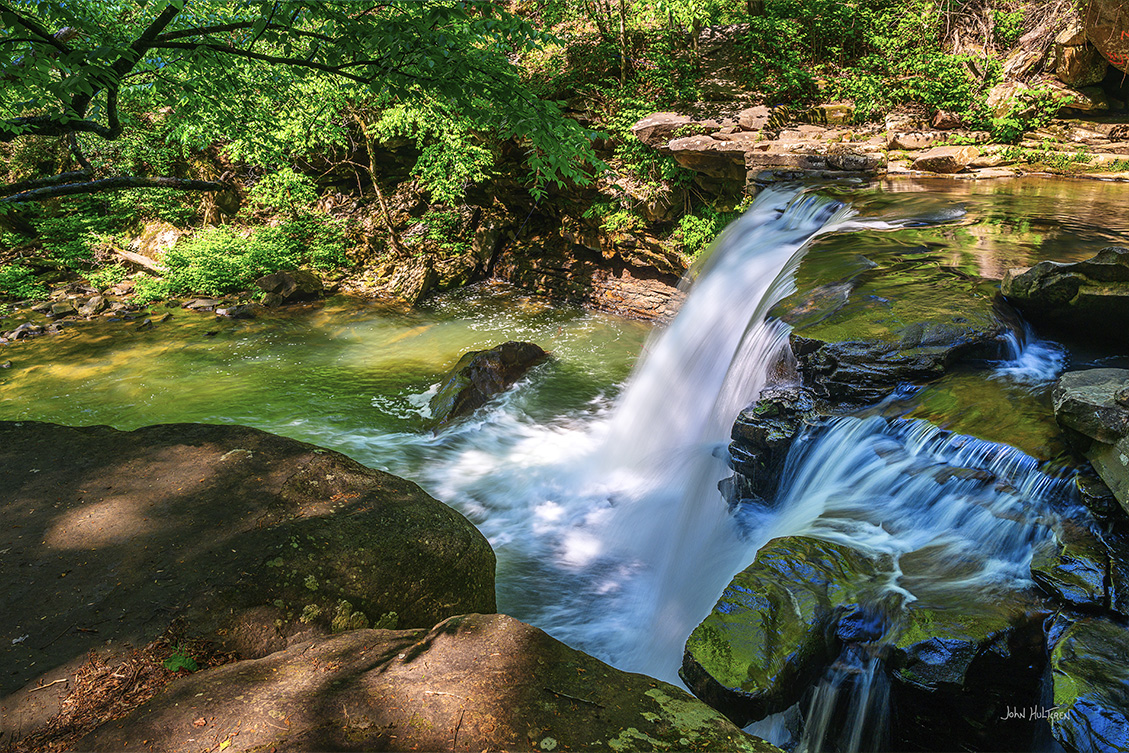 ---
10 GPS: N 38°09.2524', W 081°10.7565'
Cathedral Falls
Picnic Area: N 38°09.2274', W 081°10.7784'
The waters of Cane Branch cascade steeply down a series of ledges into a natural amphitheater surrounded by a narrow canyon with towering walls on either side, giving one the feeling of being in a cathedral. Cathedral Falls is located right off U.S. Route 60 and is one of the tallest and most-visited waterfalls in West Virginia. The falls are directly adjacent to the picnic area and are viewable from the parking lot.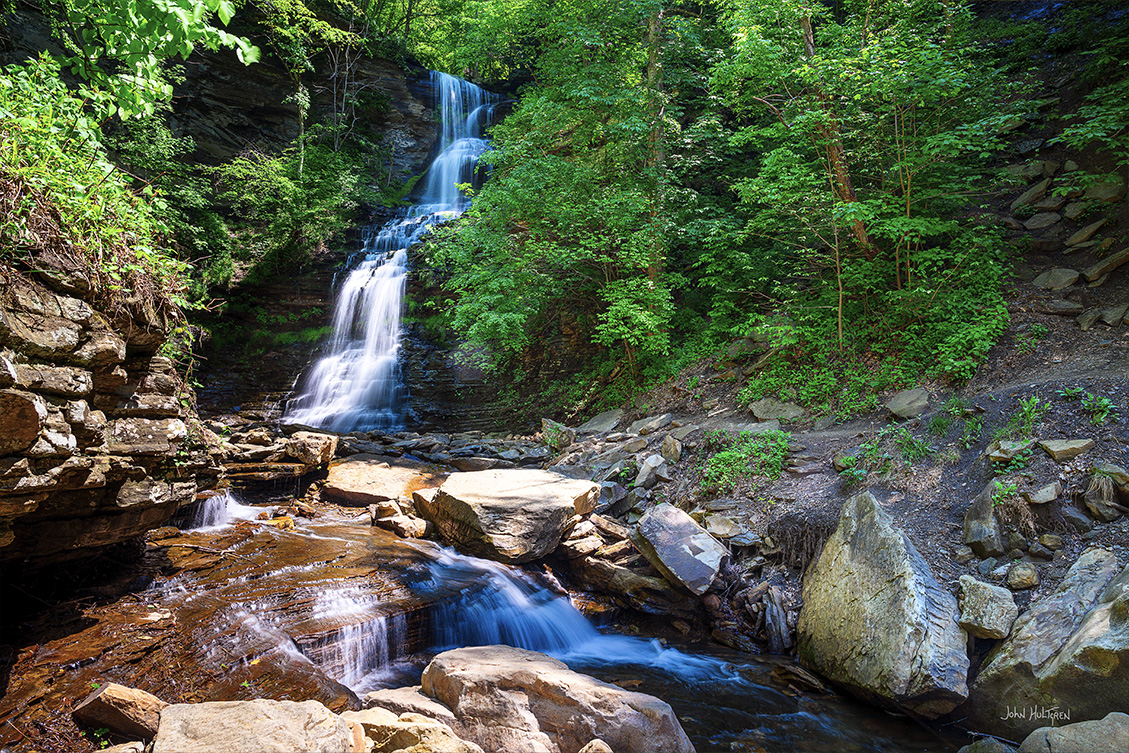 ---
---

I am a fine art and conservation photographer, author, and educator from Louisville, Kentucky, who uses photography to advocate for conservation outcomes, protecting nature and improving the natural environment. Conservation photography furthers environmental conservation, wildlife conservation, habitat conservation and cultural conservation by expanding public awareness of issues and stimulating remedial action. You can see more of my work at www.hultgren.org.
---