Lasagna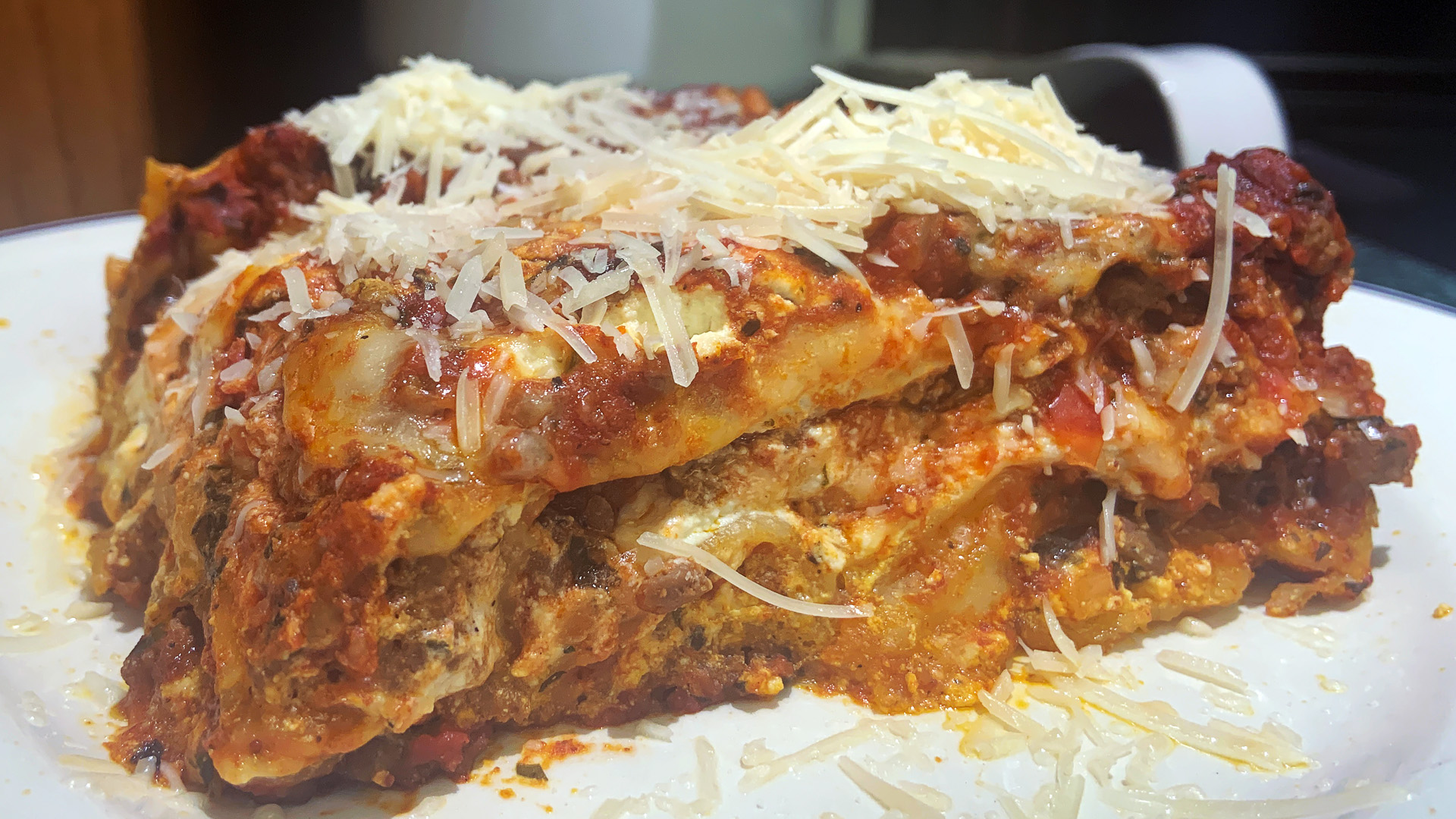 Notes:
Lasagna pans are not the same as 9 x 13 casserole pans. Lasagna pans are deeper as a true lasagna has four layers of noodles, which usually fit pretty nicely in a lasagna pan.
This recipe calls for fresh herbs, which provide a wonderful flavor, but we know that fresh isn't always an option. If you need to use dried herbs, use them in a third of the amount of fresh herbs called for.
Sauce develops its flavor as it simmers and it needs to be simmered for a minimum of 1 hour, but you can simmer it up to 4 hours for maximum flavor results. If you don't want to leave it simmering on the stove, you can always transfer it all to a slow cooker and simmer it in there on high for 4 hours or low for 6 to 8 hours.
Make sure the noodles are completely covered in sauce, because any exposed edges will turn hard and crunchy (lasagna is not meant to be crunchy). Most no-boil noodles will expand during cooking, so it's best to slightly overlap them so they're not touching the sides of the dish. Otherwise, they're more likely to expand up the sides of the dish and become exposed. Alternate the direction of the noodles in each layer so the final casserole holds its shape better.
Ingredients:
1 pound sweet Italian sausage
1 pound lean ground beef (maximum 17% fat)
1 large white onion diced
5 cloves garlic minced
1 (28 ounce) can crushed tomatoes
2 (6 ounce) cans tomato paste
1 (15 ounce) can tomato sauce
½ cup of a moderately priced dry and crisp white wine with a moderate alcohol content (ideally between 10 and 13 percent) and generous acidity, such as Pinot Grigio, Sauvignon Blanc, and unoaked Chardonnay
2 tablespoons white sugar
½ cup chopped fresh basil
1 teaspoon fennel seeds
1 teaspoon ground oregano
½ teaspoon salt
¼ teaspoon ground black pepper
¼ cup chopped fresh parsley
1 pound of oven-ready lasagna noodles
30 ounces ricotta cheese
2 tablespoons chopped fresh parsley
1 large egg
⅛ teaspoon ground nutmeg
1 pound thinly sliced mozzarella cheese about 24 slices
1 cup freshly grated Parmesan cheese
Preparation:
In a large pot over medium heat, add in ground sausage and ground beef. Use a spoon to break up the meat into small pieces. Add in onion and garlic and cook until meat is well browned, stirring constantly. Stir in sugar, fresh basil, fennel, oregano, ½ teaspoon salt, pepper, and ¼ cup chopped parsley. Pour in crushed tomatoes, tomato paste, tomato sauce, and wine*. Stir well and bring to a simmer. Reduce heat to low and simmer 1-4 hours, stirring occasionally.
Meanwhile, place lasagna noodles into the bottom of a pan. Pour hot tap water directly over the noodles, making sure the pasta is completely immersed in the water. Let them soak for 30 minutes, then drain and discard water.
In a mixing bowl, combine ricotta cheese with egg, remaining 2 tablespoons parsley, ½ teaspoon salt, and nutmeg. Refrigerate until ready to assemble lasagna.
Preheat oven to 375 degrees. Lightly grease a deep 9x13 lasagna pan.
To assemble, spread about 1 cup of meat sauce in the bottom of the prepared pan. Place 4 noodles on top. Spread with ⅓ of the ricotta cheese mixture. Top with ¼ of mozzarella cheese slices. Spoon 1-½ cups meat sauce over mozzarella, then sprinkle with ¼ cup parmesan cheese. Repeat layering two more times to create three complete layers. To finish, place a final layer of pasta, topped with another 1 cup of meat sauce to cover the pasta. Top with remaining mozzarella and Parmesan cheese. Cover loosely with aluminum foil.
Bake in preheated oven for 25 minutes. Remove foil, and bake an additional 25 minutes to allow cheese to brown. Serve hot.
ADVERTISEMENT

Freezing Leftovers:
If you have used items that have already been frozen and thawed once, it's best not to freeze and thaw them twice. This increases the chance that the food could be contaminated by bacteria.
It is necessary to make sure the cooked lasagna has cooled entirely before you freeze it. Otherwise, the texture of the dish won't be as pleasant when it's time to eat it. After making the lasagna, set it aside for one hour to cool. You can also place it into the refrigerator to chill. Before placing it in the fridge, cover the lasagna with two layers of plastic wrap and one layer of kitchen foil.
Cover the lasagna with freezer-safe plastic wrap. Don't use aluminum foil, since it might affect the taste of the lasagna. Cover it with several layers of plastic wrap to keep it fresh in the freezer. You may want to wrap the plastic around the entire dish, rather than just over the top to ensure there are no gaps in the wrap where air could get in and cause freezer burn. Consider cutting the lasagna into individual portions and freezing them in individual freezer-safe storage bags. This way you won't have to reheat the entire thing if you only need a meal for one or two people. Cut the lasagna into serving sized-portions after it has chilled. This will help the pieces hold together better instead of falling apart. Put each piece in its own bag. No matter what, make sure it is double wrapped to prevent the lasagna from drying out.
Label and date the lasagna and place it in the freezer. It can be frozen for up to three months, whether it has a meat or vegetable filling.
Thaw the frozen lasagna in the regrigerator overnight. If you try to bake it while it's still partially frozen, it will cook unevenly and the taste and texture will be affected. It will also be more difficult to determine whether it's done or not.
To reheat, preheat the oven to 350ºF. Unwrap all of the plastic wrap, and cover the baking dish with aluminum foil which will keep the top from getting too brown while the rest of the lasagna cooks. If you're cooking an individual portion of lasagna, take the piece you want to bake out of its storage bag and place it on a suitable baking dish, then cover with foil. Bake for half an hour to 40 minutes, or until heated through. You may need to test a small piece from the center to make sure it isn't still cold in the middle. During the last 10 minutes of baking, you can remove the foil to allow the heat to reach the top if you want a brown, crispy crust on your lasagna. If you're just reheating an individual piece of lasagna, you can do that in the microwave instead of in the oven. Place it on a microwave-safe dish and microwave on high for 2 - 3 minutes, or until it's hot and bubbly. Do not use aluminum foil in the microwave.
Lasagna

Servings: 8


Amount per serving:
Calories:
813
Total Fat:
35 g
Saturated Fat:
11 g
Monounsaturated Fat:
3 g
Polyunsaturated Fat:
1 g
Trans Fat:
1 g
Cholesterol:
116 mg
Sodium:
1257 mg
Potassium:
1139 mg
Total Carbohydrate:
78 g
Dietary Fiber:
10 g
Sugars:
14 g
Protein:
43 g
Vitamin A:
101%
Vitamin C:
73%
Calcium:
138%
Iron:
25%
Copyright © 1990 - 2022 John Hultgren Photography. John Hultgren Photography is a registered trademark.
All rights reserved. All photographs are registered with the United States Copyright Office and protected by international treaties. Photos may not be copied, reproduced, retransmitted, or archived without express permission.