Hamburger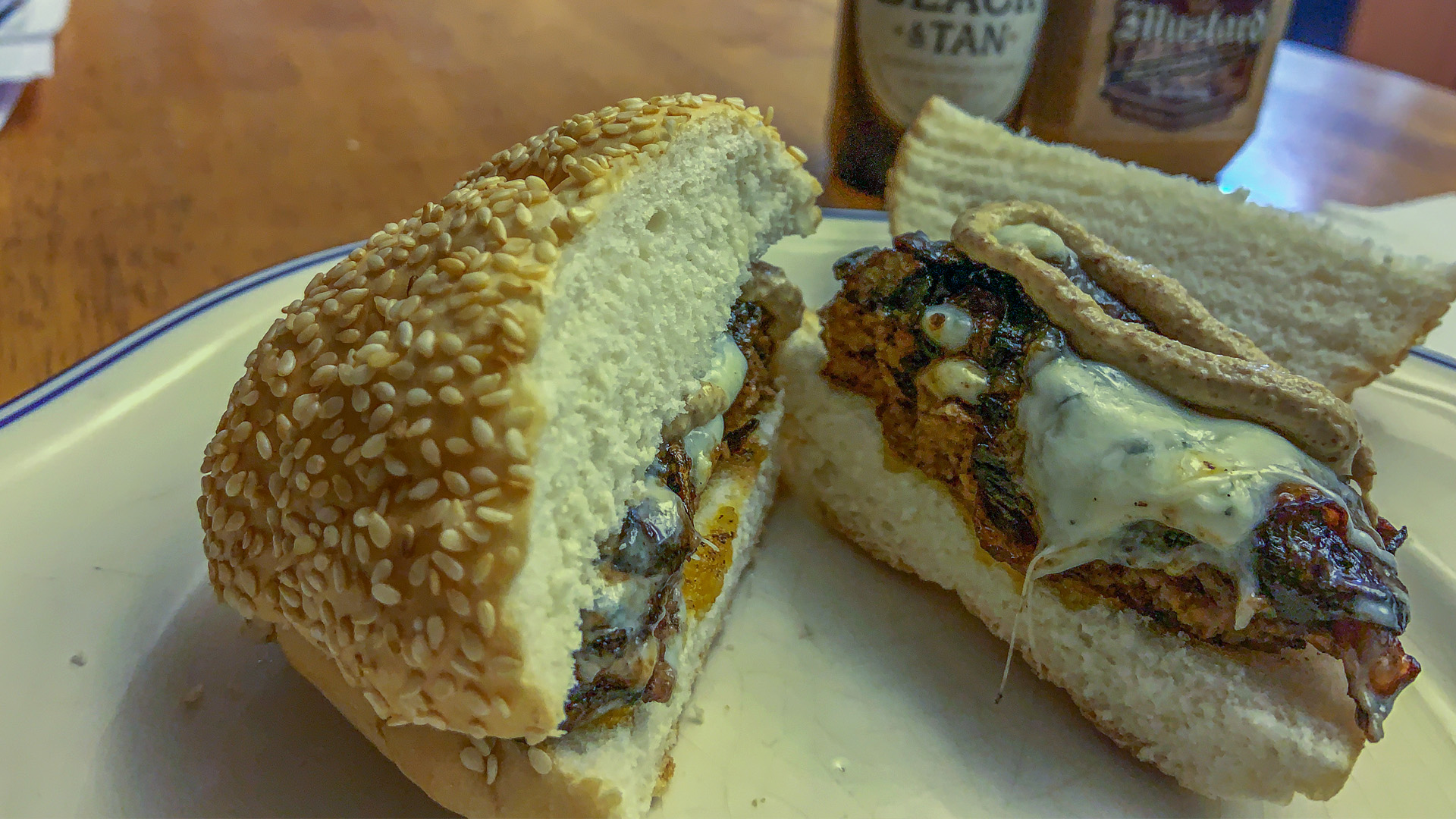 Notes:
Some blends of meat, with better quality cuts of beef, just make better burgers. Consider choosing bits of short rib, brisket, hanger steak and ribeye if you have the option. Otherwise, look for a blend of 80 percent lean, 20 percent fat. The extra fat is going to melt and make a juicy, tasty burger.
Browned onions add deep, rich flavor. While these sautéed onions are deeply browned and very flavorful, they differ from caramelized onions in texture. Here, the onions retain their shape and do not soften completely (as in caramelized) since they aren't cooked as long. This quick-browning approach also retains a stronger onion flavor than caramelized onions, making them great as a burger topping. Whenever possible, choose yellow onions for this recipe because they contain less moisture, which works best for the quicker cooking method. However, almost any onion can be used, with each variety tasting slightly different when cooked.
Fresh wrapped meat in brown butcher paper will last a maximum of three days refrigerated. Vacuum-sealed meat will last up to two weks in the refrigerator and much longer in a freezer.
Ingredients:
Seasoning:
2 teaspoons paprika
1-½ teaspoons ground black pepper
1-¼teaspoons Kosher salt
½ teaspoon dark brown sugar
¼ teaspoon garlic powder
¼ teaspoon onion powder
¼ teaspoon ground cayenne pepper
Hamburgers:
1-½ pounds ground chuck (70 - 80 percent lean)
4-½ tablespoons canola oil
4 slices Cheddar or blue cheese crumbles (optional)
4 bakery hamburger buns or Kaiser rolls, split; toasted
1 large yellow onion
1 teaspoon balsamic glaze
Optional: 2 to 3 tablespoons sherry (preferably dry)
Preparation:
Combine all seasoning ingredients in a small bowl. Makes 2 tablespoons.
Using your hands, form each hamburger portion into a ball-shape by gently tossing it from one hand to the other (don't over work or press too firmly on the meat) and then press flat ½-inch thick, making the patty the size of the bun. Use the tips of your fingers to gently make a shallow 1-½ inch wide indentation in the center of each patty. Brush the burgers with canola oil, sprinkle the seasoning on the hamburger patties, and let your burger patties rest in the refrigerator 30 minutes or more, allowing the flavors to blend together.
Slice the onions into thin half-moons. Place a large sauté pan over medium-high heat and add 2 to 3 tablespoons butter or canola oil. If using butter, heat just until the butter stops foaming. For oil, heat until the oil shimmers and flows easily. You want a heavy coating of butter or oil in the pan, so add more if necessary.
Add the sliced onions to the large sauté pan. Sprinkle with salt and stir to coat the onions with the butter or oil and to distribute the salt. Without stirring, cook the onions for 1 to 2 minutes, until they start to brown. Stir the onions so that more of them are exposed to the pan and let sit for another minute to promote more browning. Stir the onions once or twice more, getting as much browning as possible without burning them. They are done when they're thoroughly browned but still slightly firm, usually in about 10 minutes. If using the sherry, deglaze the pan. Scrape up any browned bits from the pan and let the sherry evaporate almost completely. Place the sautéed onions on a dish off to the side and drizzle with balsamic glaze.
When cooking the burgers, only flip the burgers once to prevent loss of juice and flavors, and don't squish the burger. When approximately two minutes cooking time remains, top the burgers with the sautéed onions and cheese and cover with a basting cover (or close the grill cover or tent the burgers with aluminum foil to melt the cheese).
The burger patties should get another 5-minute rest after they come off the grill while you toast the buns, so place the cooked patties on a cookie sheet and loosely cover with foil while they rest, which will help you keep the moisture in the patty where it belongs. Check the burgers with a meat thermometer for a good reading. Medium-rare burgers will have an internal temperature of 145 degrees Fahrenheit in the middle, but if you are using commercial ground beef it is best to cook the burger to at least medium; medium burgers, 160 degrees; well-done burgers, 175 degrees.
IF USING A CAST IRON GRILL WITH RIDGES: Cast iron is the absolute key to the perfect burger. Place your iron skillet into a 375-degree oven and let it warm thoroughly for about 30 minutes, then very carefully move it over a medium-high burner. Add a tiny bit (no more than a tablespoon) of olive oil to the pan, and if it smokes, your pan is too hot and should be taken off the burner for a couple of minutes before trying again. If it beads slightly and shines as it hits the pan, it's ready. Cook the burgers about five minutes or whenever you can see the side of the patty turn from red to brown, then carefully flip your patty and repeat on the other side until golden brown and slightly charred, about 5 minutes for medium rare (3 minutes if topping with sautéed onions and cheese and then two minutes more after adding the onions and cheese) or until cooked to the desired degree of doneness.
IF USING A GRILL: Make sure your grill is preheated. Heat a gas grill to high (the closer to 500 degrees the better) or heat coals in a charcoal grill until they glow bright orange and ash over. Grill the burgers until golden brown and slightly charred on the first side, about 3 minutes. Flip over the burgers. Cook until golden brown and slightly charred on the second side, 4 minutes for medium rare (2 minutes if topping with onions and cheese and then cook two minutes more) or until cooked to desired degree of doneness.
Sandwich the hot burgers between the toasted buns and serve immediately.
ADVERTISEMENT

Servings: 4
Amount per serving:
Calories:
656
Total Fat:
31 g
Saturated Fat:
13 g
Monounsaturated Fat:
11 g
Polyunsaturated Fat:
3 g
Trans Fat:
0 g
Cholesterol:
191 mg
Sodium:
1866 mg
Potassium:
851 mg
Total Carbohydrate:
29 g
Dietary Fiber:
2 g
Sugars:
6 g
Protein:
62 g
Vitamin A:
19%
Vitamin C:
2%
Calcium:
22%
Iron:
43%
Copyright © 1990 - 2022 John Hultgren Photography. John Hultgren Photography is a registered trademark.
All rights reserved. All photographs are registered with the United States Copyright Office and protected by international treaties. Photos may not be copied, reproduced, retransmitted, or archived without express permission.