Homemade Traditional Deep-Fried Donuts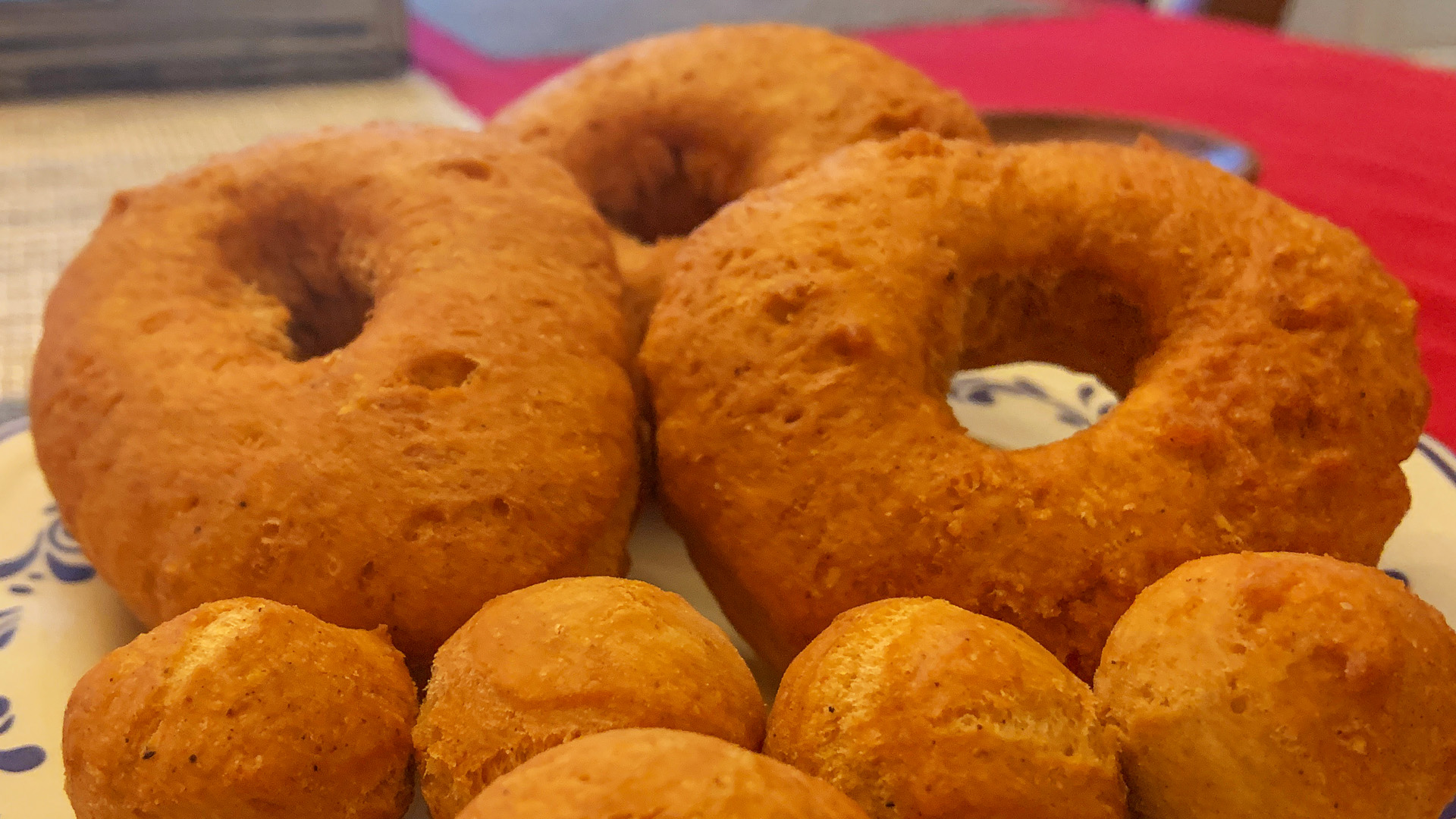 When deep-frying, the cooking oil reaches very high temperatures, which can start fires or cause burns. Please practice these safety guidelines:
Have a kitchen fire extinguisher handy, and learn how to use it, before you begin.
Avoid letting water come into contact with the hot oil — the water will vaporize into steam, which can make the oil splatter and cause burns.
Never use water to put out a grease fire. Use a kitchen fire extinguisher or cover the fire with a metal lid.
Always add oil to a cold fryer that is turned off or an unheated pan. Make sure any fryer or pan you use is dry and set it away from sources of water.
Never leave the fryer or pan unattended when it is in use.
When you have finished frying, turn off and unplug the fryer — or remove the pan from the heat. Make sure the fryer or pan is completely cool before cleaning.
Once oil is completely cooled, pour it into a resealable container while filtering particles out and then store it in the refridgerator to use again, or discard it in the trash. Never pour it down the drain as it can harden and clog pipes.
Ingredients:
Canola oil for deep-fat frying
3-½ cups all-purpose flour
1 tablespoon baking powder
1 teaspoon ground nutmeg
¾ teaspoon salt
1 teaspoon ground cinnamon
4 eggs beaten
⅔ cups of sugar
½ cup butter (melted)
⅓ cup of milk
1 tablespoon vanilla extract
Preparation:
In a bowl combine flour, baking powder, nutmeg, salt, and cinnamon; set aside.
In another bowl combine milk, vanilla, and melted butter.
In a large mixing bowl combine eggs, and sugar; beat with electric mixer until thick (about 5 minutes). Add milk mixture; stir with a wooden spoon to combine. Add flour mixture and stir with a wooden spoon until smooth. Cover dough; chill at least 2 hours (dough will remain slightly sticky).
Turn dough out onto a lightly floured surface. Roll dough to ⅜-inch thickness. Cut dough with a floured 2-½-inch round cutter. Use a 1-¼-inch cutter to cut the hole for the doughnut. (You can also use a standard doughnut cutter.)
Fry 2 or 3 doughnuts at a time in deep hot fat (375 degrees F) for 2 to 2-½ minutes or until brown, turning halfway through cooking with a slotted spoon. Drain on paper towels. Repeat with remaining doughnuts and doughnut holes. Makes about 15 doughnuts and doughnut holes.
Shake warm doughnuts in a bag with Cinnamon-Sugar or powdered sugar. Serve warm (or reheat each doughnut 8 to 10 seconds in microwave on high).
ADVERTISEMENT