Beef Stew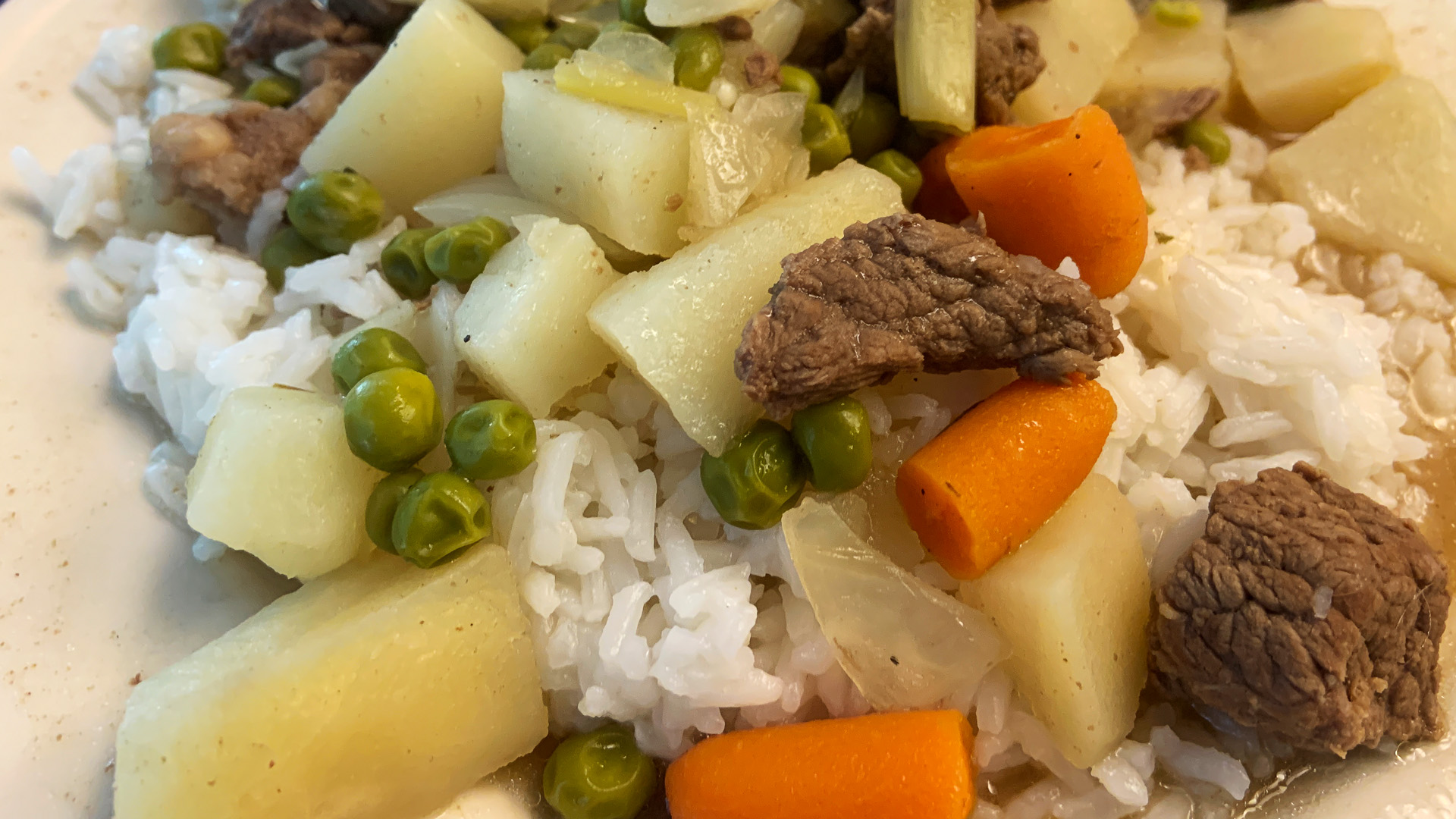 Notes:
If thicker stew is desired, add more cornstarch and/or take cover off for last 15-20 minutes.
Cornstarch should not be added straight into a hot liquid as this can cause it to form lumps. Instead, mix cornstarch into a room temperature or slightly cool liquid to form a slurry, and then stir it into the hot liquid. This will allow for even distribution of the cornstarch molecules before they have a chance to swell and gelatinize.
Mixtures containing cornstarch should be brought to a full boil before cooling. The mixture may appear thickened after slight heating, but if the starch molecules are not fully gelatinized, they will release the moisture once cooled and become thin.
Sauces and other mixtures thickened with cornstarch should not be frozen. Freezing will break down the gelatinized starch matrix, and the mixture will become thin after thawing.
Ingredients:
2 pounds cubed beef stew meat
3 tablespoons vegetable oil
4 cubes beef bouillon, crumbled
4 cups water
1 teaspoon dried rosemary
1 teaspoon dried parsley
½ teaspoon ground black pepper

3 large potatoes, peeled and cubed
4 carrots, cut into 1 inch pieces
4 scallions or green onions, cut into ½ inch pieces
1 large onion, chopped
1 frozen or canned peas
3 teaspoons cornstarch
3 teaspoons cold water
Preparation:
In a large pot or dutch oven, cook beef in oil over medium heat until brown. Dissolve bouillon in water and pour into pot. Stir in rosemary, parsley and pepper. Bring to a boil, then reduce heat, cover and simmer 1 hour.
Stir potatoes, carrots, peas, scallions, and onion into the pot. Dissolve cornstarch in 3 teaspoons cold water and stir into stew. Cover and simmer 1 hour more. I like to serve mine with rice but it can also be served with crusty French baguettes, green salad, dinner rolls or mashed potatoes.
ADVERTISEMENT

Servings: 10
Amount per serving:
Calories:
276
Total Fat:
20 g
Saturated Fat:
6 g
Monounsaturated Fat:
1 g
Polyunsaturated Fat:
3 g
Trans Fat:
0 g
Cholesterol:
60 mg
Sodium:
998 mg
Potassium:
251 mg
Total Carbohydrate:
5 g
Dietary Fiber:
2 g
Sugars:
3 g
Protein:
18 g
Vitamin A:
0%
Vitamin C:
2%
Calcium:
3%
Iron:
8%
Copyright © 1990 - 2022 John Hultgren Photography. John Hultgren Photography is a registered trademark.
All rights reserved. All photographs are registered with the United States Copyright Office and protected by international treaties. Photos may not be copied, reproduced, retransmitted, or archived without express permission.