Ordering prints and merchandise
John Hultgren Photography has partnered with SmugMug to provide you with prints and other merchandise.
Not all of our photographs, or all merchandise items, are available through SmugMug and item price varies by category. Our art show prints are packaged with a mat but SmugMug provides you with more ordering choices and we do not offer keepsakes, digital downloads, or commercial licenses for our art show prints. Our contracted clients are in a different contract pricing category and have access to additional print options, merchandise, and digital downloads with a commercial photo licenses. Our stock photographs are also in a different pricing category and commercial licenses are also offered through numerous stock photo agencies which offer different pricing plans, and some of these agencies have exclusive rights to provide certain photographs.
Orders from our web site are accomplished seamlessly and securely with our safe shopping cart and secure checkout. We offer a wide variety of photographic finishes and sizes, from small to super-sized in 70 different sizes. We offer our contract clients the power to offer something unique with the power to turn their photos into fun, functional, and fantastic gifts like keepsake boxes and coffee mugs to aprons, playing cards, magnets and more. And our contract clients have the ability to download photographs in the digital format for commercial uses, which is a great option when you'd like to use a photo on-line or in promotional material, of if you'd like to make your own prints.
Ordering is simple: 1) Visit our photo album. 2) Choose your image. 3) Look for the BUY button and click it.
Keep in mind that our photographs do not always perfectly fit everything that we offer. While our photograph may perfectly fit an 8" x 12" print, that same photo will loose one inch on each side when printed as an 8" x 10" print if it is cropped. Still, you have some degree of control over this and we will walk you through the steps below.
Printed photos and gifts
You don't need a SmugMug account to buy prints.
Step 1: Add photos to your shopping cart.
You'll find a BUY or ADD TO CART button beside each photo. To add a photo to your shopping cart, click the Buy button and select This Photo from the menu.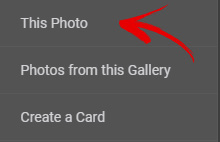 Select the type of photo you want to purchase.
Paper Prints: Prints on photographic paper.
Wall Art: Specialties such as canvas and metal prints.
Desk Art: Specialties to display on a desk or table.
Keepsakes: Includes mugs, buttons, and more.
Downloads: Purchase a license for redistribution and download the photograph's digital file to your computer.
Once you have chosen the type of print you want, you'll be guided through your options for making your print perfect!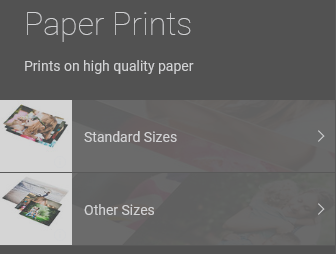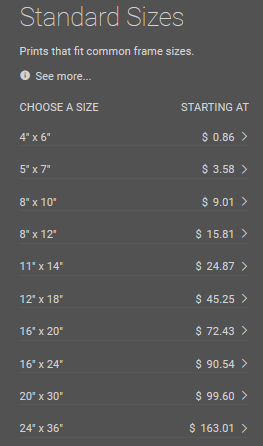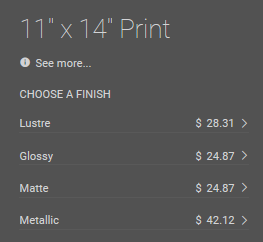 Click Change Product if you want to select a different print type for your photos.
Once you've finished selecting your photos and product type, click the Add Photos to Cart button to add all the photos you've selected to your shopping cart.
Click Checkout if you're ready to finish your order, or click Back to Gallery to keep browsing and shopping.
You can always go back and add or remove photos before you place your order.

Step 2: Get a perfect order
We give you lots of options to choose from to ensure the print you order will be one you love!
Size: This is the paper trim size of your product, shown as width x height. Everything standard size is available here.
Crop: Your photo won't fit all of the print sizes that we offer without a bit of trimming. But at least you're empowered with your own knife. You can tell us what part of the photo to print, right there in the shopping cart, by adjusting the crop lines.
In this example, the user is selecting their print size. When they hover their mouse over the 11" x 14" print size, the portion of the photo that cannot be printed are grayed out.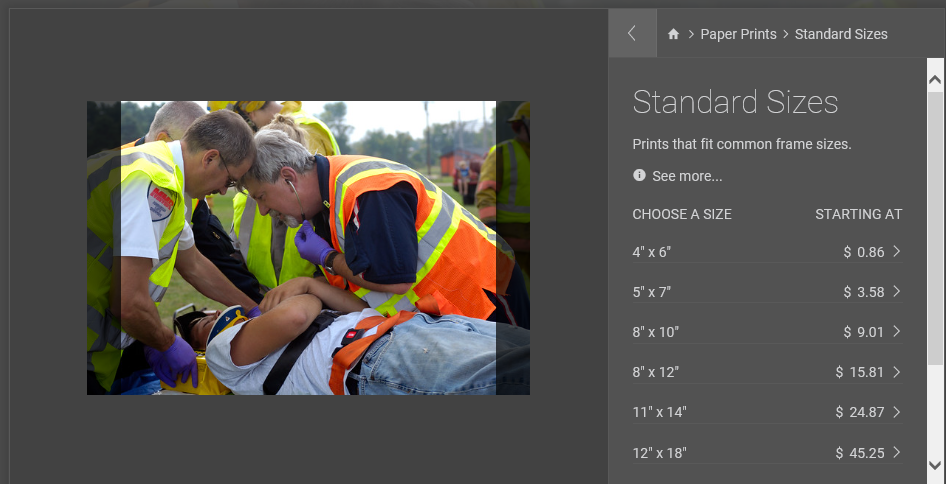 In this example, when the user selectes the 11" x 14" print size, a box will appear around the visible portion of the photo with the areas of the photo that won't print grayed out; this box can be dragged to reposition the part of the photo that will be printed.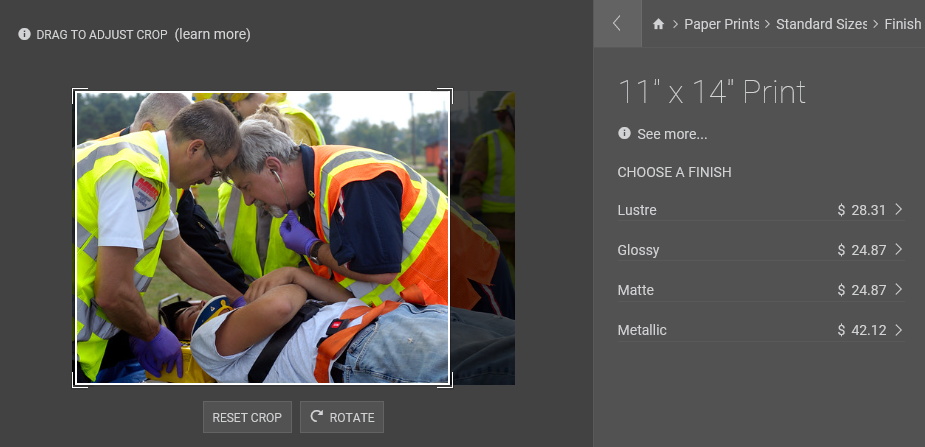 For canvas and other products that wrap a part of your print around a wooden frame or foamboard, a blue overlay will appear inside the crop lines. The highlighted center area represents what will appear on the front of your print. Anything covered in blue represents what will be visible on the sides as your print wraps around the edges.
Finishes: Select the type of protective coating you want for your print.
Quantity: Increase (+) or decrease (-) how many copies of your print you want to purchase.
Do you want the entire photo without any cropping? You can do that too. Just continue adding your print to your shopping cart. In the shopping cart you can remove any cropping and add a larger white border to two sides of your print. When framing, a custom mat can be cut to only show the photo. We have added a two-day delay to all print orders to allow us to review your order, and if we have a question about how your order will appear we will contact you for clarification. If you have a specific size requirement, we encourage you to contact us and we will work with you individually to place your order exactly as you want it.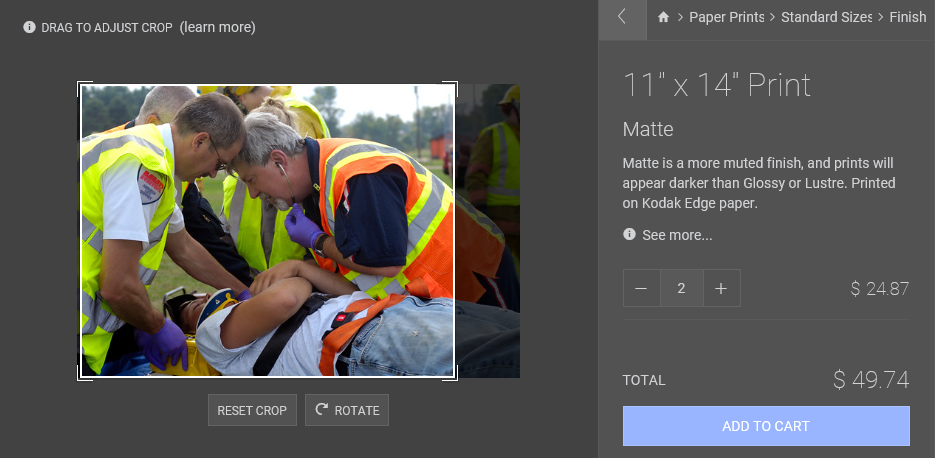 Add to Cart: Once you've finished selecting all your options, click Add to Cart to add your perfect product to your shopping cart. Don't forget to click this button, otherwise your print won't appear in your cart when you're ready to check out.

Click View Cart if you're ready to finish your order, or click Close to keep browsing and shopping.

Step 3: Finish your order and Check Out
In your shopping cart you can add and remove items and adjust the number of prints being ordered. You will see exactly how your print will be cropped and you can further adjust your crop here (and you can even remove any cropping by selecting the Crop | None button for your photo, leaving two larger white borders on two sides of your print that you can either trim or hide with a custom mat).