The 1980s
When I first arrived in Louisville I worked as a street paramedic until 1984, when I was promoted to Operations Supervisor.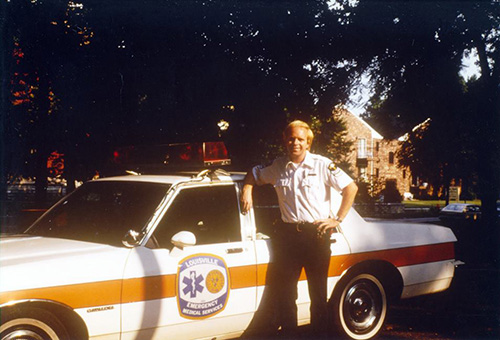 I started out working day shift but eventually went to evening shift, which I preferred. There was more action during the evening shift, and I preferred to work in the parts of Louisville where there was more action. Also, in these areas of town, the public seemed to be much more appreciative of the work we were doing and the help that we were providing.
In 1981 I was recognized as the City of Louisville EMS Employee of the Year and in 1983 I was recognized as the City of Louisville EMS Paramedic of the Year.
From 1981 until 1989 I was also a volunteer patrol member with the National Ski Patrol.
When I was promoted to Operations Supervisor I worked alone out of a police-package Ford LTD. While there were certain types of emergency responses that I had to respond to as a supervisor, being a supervisor also allowed me to pick and choose which calls I would respond to. This allowed me to assist my staff but it also really provided an "edge" in the experience department.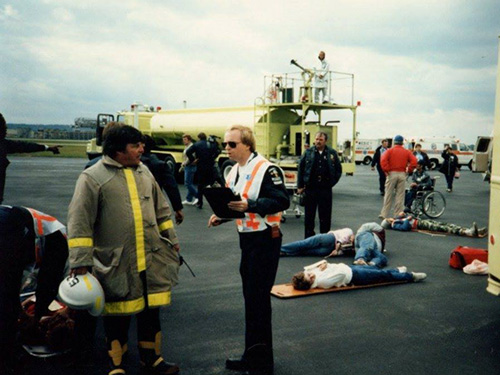 Louisville EMS also had Medical Explorer Post 911 chartered under the Boy Scouts of America, and I was the Post Advisor. This is a co-educational Boy Scout program for 15-year olds through high school graduation with a focus on medical carrers (in addition to the traditional values that come with scouting). When I moved to Louisville I started accompanying my cousin Rob on camping trips with his wife Lauri's Girl Scout Troop (and I raided some of the best girls for our Explorer Post).
We trained our Explorer Scouts in American Red Cross First Aid and CPR. Then scouts would ride with me in the EMS supervisor's car and, once I had confidence in ther abilities, they would be allowed to sign up to ride third-person on the ambulance.
I was truly amazed with what these young men and women could do. While an EMS scene typically has one patient, there are many times when mulitple patients can outnumber the available responders, and these scouts could be trusted to take one (or more) patients on their own.
Many of our scouts went on to EMS careers after high school graduation. Others went into other public safety careers such as firefighters or police officers, or other allied-health careers such as nursing or physicians.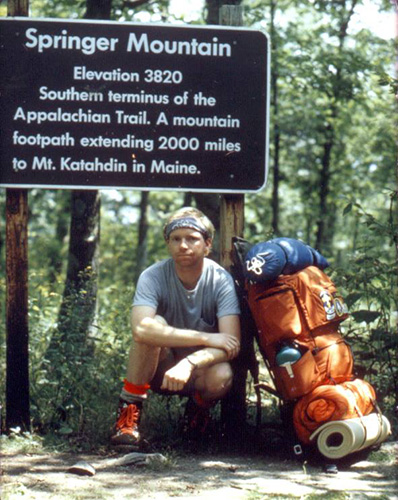 In July, 1984, I hiked the lowest 200 miles of the Appalachian Trail, which gave me a cumulative total of about half the entire 2,000-mile trail. I first encountered the Appalachian Trail while at summer camp in Maine in the 1960s where I completed portions of the northern trai, and I continued in the 1970s and 1980s completing other portions of the northern trail. Most of the trail was done alone in two-week increments.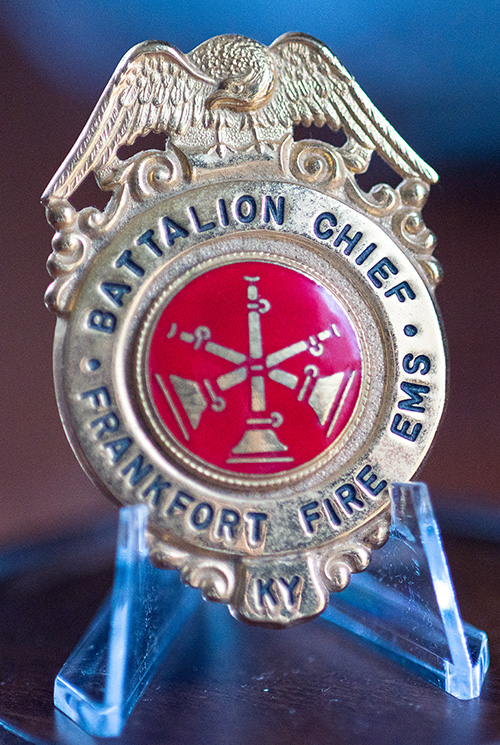 In 1987 I was approved as a Paramedic Instructor by the Kentucy Board of Medical Licensure and began teaching my first paramedic class at Frankfort Fire & EMS in Kentucky's capital city, Frankfort. In 1989 I left Louisville EMS and became a Battalion Chief at Frankfort Fire & EMS and their DIrector of Emergency Medical Services. At the time, only about 15% of Kentucky was served by an "advanced life support" EMS service using paramedics. "Advanced Life Support" is a set of advanced medical protocols and skills that extends Basic Life Support services. In 1989 Frankfort Fire & EMS was a basic life support EMS service that, with the introduction of paramedics from our paramedic class, intended to transition to an advanced life support service.
In the late 1980s, required continuing education for Emergency Medical Technicians and Paramedics was provided "in-house" by EMT instructors, the few Paramedics that we had, and Registered Nurses. The Kentucky Medical Association offered an EMS track at their annual medical conference that was coordinated by nurses. But the fairly new Kentucky Ambulance Providers Association desired a more active role in EMS continuing education and in 1989 began their efforts to establish the Kentucky EMS Conference and Expo. I was asked to be one of the conference's first education coordinators and I remained involved in various coordinator roles for 30 years.
In 1987 I was recognized by the Outstanding Young Men of America program and in 1988 I was recognized by the City of Louisville Emergency Medical Services Board of Directors with their Meritorious Service to the Community Award.