John Hultgren Photography Guides
Powering Wilderness Photography
April 2, 2021
Photographers who spend time in the wilderness need to ensure that they will have enough electrical power to finish their work. But even out in the wilderness, away from power outlets, you do have recharging options.
First, decide what constitutes essential.
Sure, there are a lot of convenient electrical devices that are nice to have on a trip, but identify which are truly essential. For me, essential devices are those devices which help me navigate, which provide me with emergency communications, and (of course) my camera.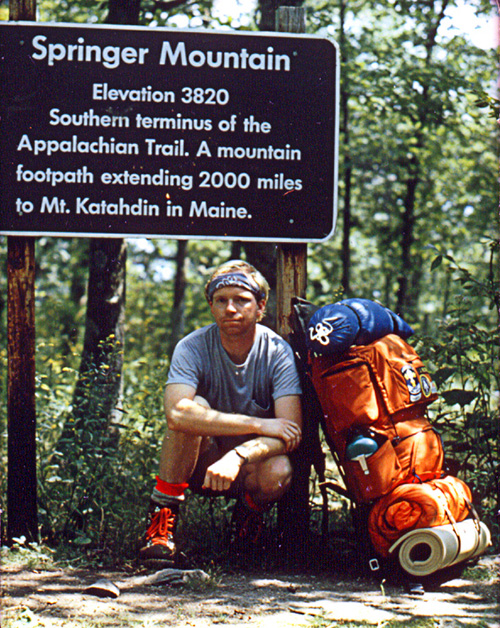 For navigation in the wilderness I carry a Global Positioning System (GPS) unit with topographic maps to lead the way (along with a paper map and a compass as backup). If I am going to be outside of cellular coverage I activate my GPS unit's satellite messaging subscription, and as a backup (and backups are important to have) I also carry my cellular phone which has GPS capabilities along with off-line maps installed, but I normally leave this turned off and stored in a waterproof pouch in my backpack.
My GPS/Satellite Messenger and my camera are the only two devices I carry that have electrical requirements which I absolutely rely upon for work and survival.
Know how long your electrical devices' power will last.
It's vital to know how long your fully-charged essential electrical devices will remain powered under normal useage. This is done by testing (don't take anyone's word for it). Take the time to subject your devices to the same electrical power demands you would expect to encounter out on a wilderness hike and then record how long each power supply lasts.
From experience I know that I prefer to hike 10 hours per day and plan for this accordingly. Unexpected events may delay me but I can ration my electronic devices to conserve power if hikes take longer. For my testing, I turned my GPS/Satellite Messenger device on and carried it on long walks, simulating power consumption while hiking, and determined that a fully charged device should last 19-½ hours the way I prefer to use it before the batteries become drained. Since I cannot remove the battery, this is the effective lifespan of this device without recharging the device.
For my camera, I usually take a limited number of photographs and only turn my camera on sporadically while hiking. Testing showed me that I turn my camera on for an average of 2 hours a day and take an average of 20 photographs a day while hiking. My Nikon D810's fully charged high-capacity EN-EL18c rechargeable lithium-ion battery will last more than two weeks, even when powering my attached Solmeta Geotagger N3-A GPS device that allows my camera to insert GPS location data into my photographs.
Determine all recharging options.
After my essential electronic devices identified and their battery lifetime have been determined, I next need to figure out what wilderness recharging options are even available for each specific device.
My GPS/Satellite Messaging device has the shortest expected battery lifespan. Any wilderness hike expected to take less that two days should not require recharging (although you should always prepare for the unexpected). This device has a built-in 3.8 volt 3100 mAh battery which, when depleted, can only be recharged by a 5-volt USB charging device. There are no other options for recharging.
My second essential device, my camera, uses the Nikon EN-EL18c rechargeable lithium-ion battery. Testing showed me that any hike shorter than two weeks should not require recharging. For longer hikes my options are limited because I can only find a charger for this battery that plugs into a wall outlet (and there are no wall outlets on trails).
ADVERTISEMENT

Fortunately, Nikon makes the MB-D12 grip for my Nikon D810 which comes with the Nikon MS-D12 AA Battery Holder that holds eight AA high-capacity nickel metal hydride rechargeable batteries that can be recharged by USB. I use the EBL 8 Bay AA AAA Battery Charger with 5-volt 2-amp fast charging for nickel metal hydride and nickel–cadmium rechargeable batteries to recharge these batteries.
Since both of my essential devices can be recharged by USB, I start any overnight hike with a fully charged USB 5-volt battery power bank. I know I can recharge my GPS/Satellite Messaging device every one or two days until I have used up all of the stored power in the battery power bank. Testing showed me I can fully recharge my GPS device after almost six full-days of use (five days to be safe), as shown in Table 1.
Table 1: Battery and Battery Pack Recharging Test
with the GoerTek® Solar Powered Power Bank
Day
Battery Pack Capacity After Full Day of Solar Exposure
Battery Pack Capacity Remaining After Daily Recharging of GPS and camera
0
Charge battery pack and all devices to 100% before trip
1
100%
50-75%
2
75-100%
50-75%
3
75-100%
25-50%
4
75-100%
25-50%
5
50-75%
10-25%
6
10-25%
0% after recharging GPS unit to 96%
I also have another recharging option to consider: I can carry a solar panel to recharge essential devices when I have sunshine. Both options have downsides.
Each of us will have a different experience out in the wilderness. Power requirements will vary for each individual photographer/hiker. Solar charge times will also vary and are dependent on many factors such as elevation, temperature, time of year, angle and position to the sun. You are responsible for yourself, so be prepared. Test and understand your power requirements and recharging capabilities before you venture out into the wilderness.
A USB battery power bank is useless dead weight once it has been drained of power, and a solar panel is only useful when the sun is out (which is the time that I want to be hiking and using devices). You typically don't want to charge an electronic device directly from a solar panel while hiking because the flow of electricity can fluctuate too much. .
Both of these issues can be addressed by combining both options together, an option that is recommended by the U.S. military: Carry a battery power bank and recharge only that power bank by solar panel during the day, and then use the charged power bank to recharge your devices after dark.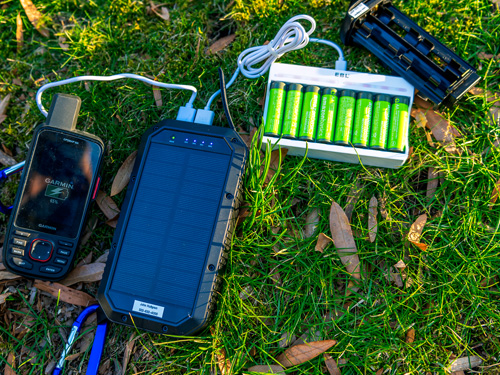 Photo: Example of end-of-day recharging. From left, my partially discharged Garmin GPSMAP 66i GPS and Satellite Communicator connected by USB 2.0 cable to my GoerTek® Solar Powered Power Bank that has spent the day hanging by the attached carabiner clip from my backpack exposed to available sunlight. To the right of the power bank is my EBL 8 Bay Battery Charger, where the partially discharged AA batteries have been removed from my Nikon battery holder (far right) and are now also being recharged by USB 2.0 cable.
I carry the GoerTek® Solar Powered Power Bank (model ES982), a combination 5-volt 300 ma solar panel combined with a large 25,000 mAh battery. This solar battery power bank is very portable and is easily hung from a backpack while hiking on a trail to recharge.
While the small size of this compact device makes it very convenient to carry suspended from a backpack, unfortunately the attached solar panel is too small to quickly recharge this power pack as I use it, even on a sunny day (and hiking on mountain trails usually keeps me in the shade, and there are occasional overcast days). During my recharging test I discovered that, for practical purposes, I can only fully recharge my two devices over a five day period in the wilderness with this solar battery power bank, provided the weather cooperates with daily forecasted UV indexes of at least 5.
A larger solar panel provides more power and pairing one with a portable USB battery power bank creates a complete energy system. This is the best way to keep your devices charged, allowing you to store the energy that the solar panel generates and save it for use at the end of the day. The larger the solar panel, the more sunlight it collects and the faster it gets converted to power that can be stored in a battery. A large surface area is also best for conditions such as cloud cover or the low-angled, low-intensity light in winter, or when logistical constraints limit how long you can have it exposed to the sun. Solar panels are rated in watts and the higher the number, the more electricity is generated during a given time period. For extended hikes longer than a few days, seven watts is a good number to shoot for to recharge your GPS device, messaging device, and camera.
The Goal Zero Nomad 10 is a foldable monocrystalline 10-watt solar panel with a USB port that is used to recharge the battery power bank during the day. This device's solar panel measures 9.5" x 14.5 " x 0.75" thick unfolded (it is 9.5" x 7.2" x 1.2" thick folded for packing) and it can be hooked onto my backpack while hiking (or propped up with its adjustable kickstand when I am stationary). The device weighs 1.46 pounds.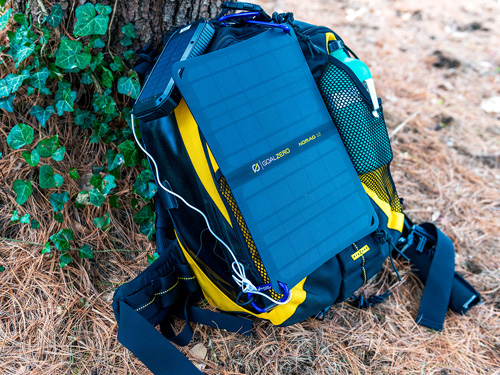 Photo: A solar battery power bank hanging by a caribiner while being recharged from a Goal Zero solar panel while both are attached to a backpack.
With my normal power usage in the wilderness, which includes leaving my GPS device on for 10-hours a day, I find that using the Goal Zeroo solar panel to recharge my battery power bank can keep up with my power demands. For the times that I encounter a power deficit due to inclement weather days, I can accomodate that deficit by rationing use of my GPS device throughout the day without compromising use of my camera. Testing is shown in Table 2.
Table 2: Battery and Battery Pack Recharging Test
with Net Zero Nomad 10 Solar Panel
Day
Battery Pack Capacity After Full Day of Solar Exposure
Battery Pack Capacity Remaining After Daily Recharging of GPS and camera
0
Charge battery pack and all devices to 100% before trip
1
100%
50-75%
2
75-100%
50-75%
3
75-100%
50-75%
4
75-100%
50-75%
5
75-100%
50-75%
6
75-100%
50-75%
7
75-100%
50-75%
8
75-100%
50-75%
9
75-100%
50-75%
10
75-100%
50-75%
---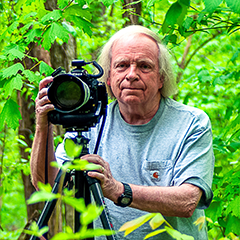 I am a fine art and conservation photographer, author, and educator from Louisville, Kentucky, who uses photography to advocate for conservation outcomes, protecting nature and improving the natural environment. Conservation photography furthers environmental conservation, wildlife conservation, habitat conservation and cultural conservation by expanding public awareness of issues and stimulating remedial action. You can see more of my work at www.hultgren.org.
---